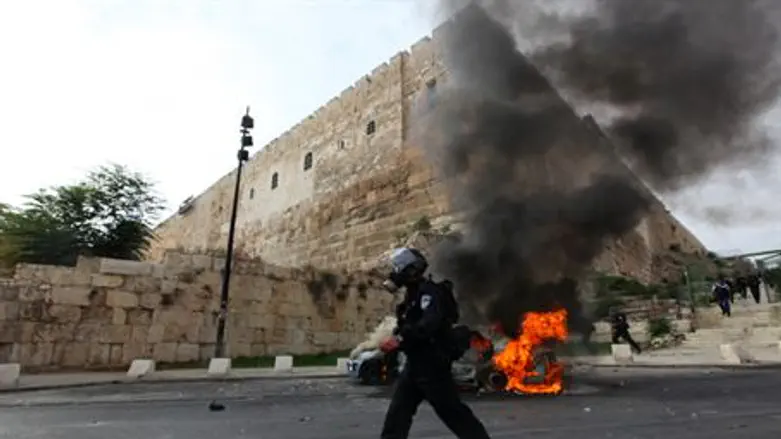 Policeman walks past car burnt by rioters, We
Israel news photo: Flash 90
Jerusalem police are on high alert Friday morning as Muslim prayers take place at the Al-Aksa Mosque on the Temple Mount. There is concern that worshipers will be inspired to further violence, as Arab rioting near the Old City continues for a third day. There is a massive police presence in the Old City and no Muslim males under the age of 50 are being allowed on the Temple Mount.
Rioters have thrown rocks at passersby, police, vehicles and buildings, wounding one officer and 11 civilians. Firebombs have also been used. Four buses sustained severe damage, and three cars were burnt.
16 rioters were arrested early on Friday morning, all of them Arab residents of Jerusalem from the neighborhoods of Mei Shiloach (Silwan) and A-Tor.
Jewish residents of Mei Shiloach and Ir David (City of David) said they have been under a serious assault for the past 24 hours. Local Arabs have hurled stones and Molotov cocktails at their sukkahs. In one case, a firebomb hit a sukkah, setting it ablaze.
On Wednesday night, the first night of Sukkot, an Arab mob attempted to blast its way into the Beit Yuri complex north of the Old City, home to four Jewish families. The mob tried to blow open a door using gas cannisters, and threw rocks at the building.
Jewish residents of the complex said Border Police officers were at the scene, but said they had orders to use only non-lethal methods of crowd control, and would not use live fire unless the mob succeeded in bursting into the building. The rioters were ultimately unable to access the complex, and continued to throw rocks instead.
Jerusalem Police Chief Aharon Franco said Sukkot events in the capital would take place as scheduled despite the unrest.
Police are planning for possible riots on Tuesday, which will mark 10 years since the day that former Prime Minister Ariel Sharon, then the leader of the Knesset opposition, visited the Temple Mount. Muslim worshipers reacted to the presence of a Jewish leader on the Temple Mount with riots so intense that they were considered by many to be the first attacks of the Oslo War (Second Intifada).