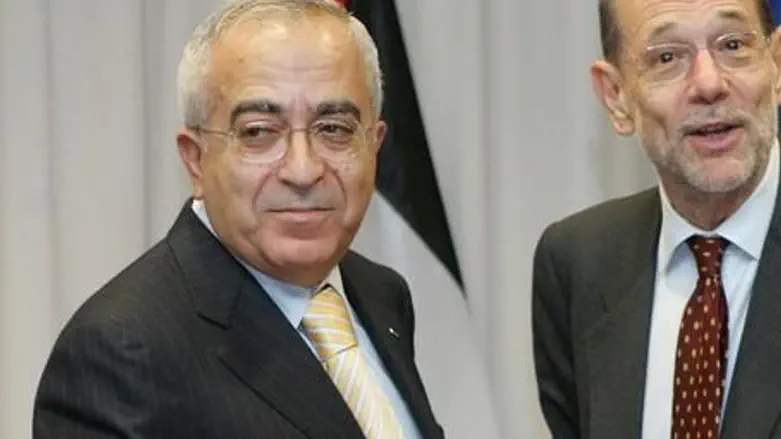 Fayyad with Solana of the EU
Israel news photo: Flash 90
Palestinian Authority Prime Minister Salam Fayyad has been fundraising for his government this week at the opening of the United Nations General Assembly in New York, and trying to maintain a spirit of optimism in the face of a fiscal crisis.
Canvassing representatives from various donor nations in between presentations on the floor, Fayyad told international leaders that the PA is facing a shortfall of nearly one billion dollars for fiscal 2011. In 2008, the level of foreign aid was $1.8 billion.
However, he told journalists at a news conference, his government is still on target to meet its own contributions to the budget, which covers the salaries of 148,000 civil employees – including those in Hamas terrorist-ruled Gaza.
By 2013, he said, the PA will be able to finance its own budget completely, without additional help from foreign aid, due to improved tax collection and belt-tightening measures.
The former World Bank economist told the Reuters news agency on Saturday that the PA government would still require foreign funding for development projects. The money that is currently being allocated for budget support, however, will no longer be drawn from foreign aid, he noted. "We will just need development aid," Fayyad said.
Fayyad told reporters that a new infusion of funds from the United States, the European Union and Arab nations would help ensure that his government will survive. 
However, Arab nations have pulled back their funding of the PA, creating a shortfall that has led to a fiscal crisis in his government. Further delays, warned Fayyad, would force the PA to take expensive loans from banks. PA officials have estimated the PA government already owes some $800 million in bank debts thus far.
The European Union also began earlier this year to question the use of its funds, and whether its investment was being used wisely.
Fayyad pledged to continue with financial and other reforms, and said the PA government will be ready for statehood "at any moment" - if more money can be found.