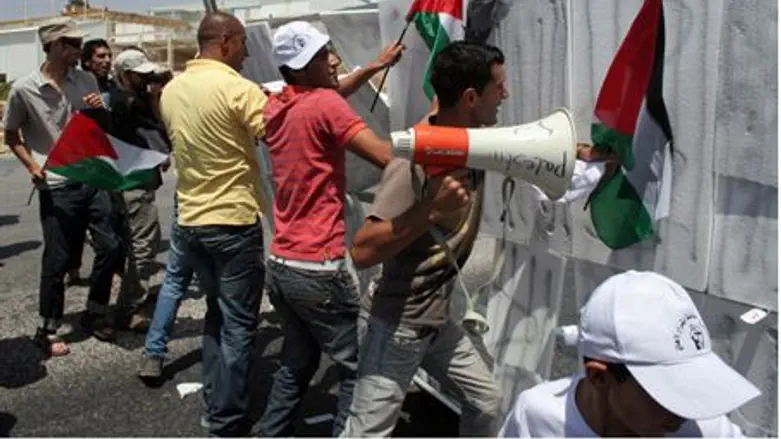 Anti-Israel protest by PA Arabs, foreigners
Israel news photo: Flash 90
The latest Palestinian Authority public opinion poll shows that the population's 18-year-olds largely reject any solution whatsoever to the so-called "Palestinian problem" and appear to be unable to make their peace with any compromise that might provide a way out of their conflict with Israel.
The survey, conducted by the Center for Opinion Polls and Survey Studies at An-Najah National University from September 17-19, sampled 1,361 eligible voters aged 18, residing in Judea, Samaria and Gaza. The findings were translated by IMRA, the Independent Media Review and Analysis watchdog agency.
Not Everyone Sees PA State as Solution
Perhaps surprisingly, only a slim majority of respondents (52.5 percent) said they accept the creation of a new PA country on the area of the 1967 borders "as a final solution for the Palestinian problem." Nearly as many (43.6 percent) rejected the idea, with only 3.8 percent saying they had no opinion.
An even greater majority (62.9 percent) said they opposed the creation of a PA state within the 1967 borders with some land exchange as a final solution for the "Palestinian problem." Only 32.9 percent of respondents said they would accept such an option, with 4.2 percent expressing no opinion.
Significantly, more than three-quarters of the PA's voting youth (78 percent) rejected the idea of making Jerusalem a capital for two states, "Palestine" and Israel, with only 19.4 percent of respondents supporting the idea.
Rejection Upon Rejection: No Solution is Good Enough
It appears that none of the options presented found favor with young PA voters, regardless of what they were. For example, a majority of respondents (56.1 percent) also rejected a confederation between the PA and Jordan, with only 35.3 supporting the idea. Nearly ten percent (8.7 percent) expressed uncertainty, saying they didn't know, or had no opinion on the matter.
In addition, a majority (53.4 percent) also rejected a deployment of Arab peace forces in Judea and Samaria. There was, however, a more positive response to this plan: 42.3 percent of respondents said they supported the idea.
A higher majority – 61.9 percent – rejected the idea of a deployment of international peacekeepers in Judea and Samaria, with only 33.3 percent expressing support.
Pessimism About Direct Talks
The majority of respondents (67.9 percent) said they expect the direct talks between Israel and the PA to fail, and 63.3 percent assigned the blame for that potential failure to the Israeli government. Nearly a fifth (20.9 percent) said the U.S. would be to blame if talks fail; only 10.5 percent said the PA would bear any responsibility.
An overwhelming majority (81 percent) supported PA Chairman Mahmoud Abbas's decision not to participate in talks if Israel ends its 10 month-long freeze on Jewish construction in Judea and Samaria as scheduled on September 26. A similar number (81.9 percent) said they reject conducting talks "in case Israel continues building settlements" in Judea, Samaria and eastern Jerusalem.
Ambivalence on Fatah v. Hamas
A great deal of ambivalence was seen in the responses to queries on issues surrounding the split between the two major factions in the PA, Fatah and Hamas, and how the status of the Gaza region might be affected in the future.
Respondents were evenly split (47 percent each) on the question of whether it is possible to reach a reconciliation agreement between Fatah and Hamas in the near future. Likewise, there was nearly an even split between those who felt such a reconciliation could speed the peace process (38.6 percent) and those who felt it would have no effect (39.2 percent). Another 15.9 percent said it would simply result in entangling and stopping the peace process altogether.
The majority of respondents (65.4 percent) said they believe, nevertheless, that Gaza will not remain separate from the rest of the PA forever. However, 31.8 percent said they thought it might continue to be separate, as it is at present.
Shalit Irrelevant to Fatah-Hamas Issue
The issue of kidnapped IDF soldier Gilad Shalit, held captive in Gaza by Hamas since he was abducted by the group's operatives in June 2006, was not considered relevant to the process by a majority of respondents (55.4 percent).
However, more than a third (34.5 percent) said they believed that concluding a prisoner exchange deal with Israel for Shalit's freedom might, in fact, speed up the process of reconciliation between Fatah and Hamas.
One of the highest number of ambivalent responses were seen on this question: 10.1 percent told pollsters they either had no opinion, or simply did not know whether concluding a deal would speed up a reconciliation, or not.
Election Apathy: 'I Won't Vote'
On a number of different questions, a significant percentage of respondents (20 percent) said they would not participate in elections, with nearly an equal number (18 to 19 percent) expressing ambivalence about the issue altogether.
If presidential elections were to be held at present, a slim majority (32.3 percent) said they would vote for a Fatah candidate – but 20.8 percent said they would not vote at all, and 19.2 percent said they had not yet decided what to do. Only 10.4 percent said they would vote for Hamas, 3.5 percent said they would vote for an Islamic independent, and 3.2 percent said they would vote for a leftist candidate.
Respondents were equally divided about legislative elections: 33.2 percent said they would vote for a Fatah ticket, and 10.7 percent said they would vote for Hamas. But 20.9 percent said they would not vote, and 17.9 percent were undecided; 3.6 percent said they would support an Islamic independent ticket, and 3.2 percent said that would vote leftist.
A larger majority (47.4 percent) predicted a Fatah win if PA legislative elections were to be held today, however, with 15.9 percent saying that Hamas would win. The largest number of ambivalent responses was seen in this question, however: fully 23.6 percent said they had no opinion or did not know who would win if a PA legislative election were to be held today.
Fayyad More Popular Than Haniyeh
The government of Salam Fayyad won hands down (61.3 percent) when it came to perception of who was the most capable of managing internal PA affairs, as opposed to the Gaza government of Hamas de facto Prime Minister Ismail Haniyeh (22 percent).
Likewise, Fayyad won a thumbs-up on his performance rating from the PA's young voters: 68.3 percent said the Fayyad government's performance was "good," as opposed to 23 percent who rated it "bad," and 8.7 percent who had no opinion or said they didn't know.
Fayyad's rating contrasts sharply with that of Haniyeh: only 30.6 percent of respondents felt the Hamas leader had done a good job in the Gaza region he has ruled since 1007, with 57.2 percent rating his performance as "bad" and 12.2 percent expressing ambivalence.
Of those who responded to the survey, 37.9 percent were supporters of Fatah, 11.6 were Hamas supporters, 3.3 percent considered themselves independent Islamists and the rest belonged to other groups.