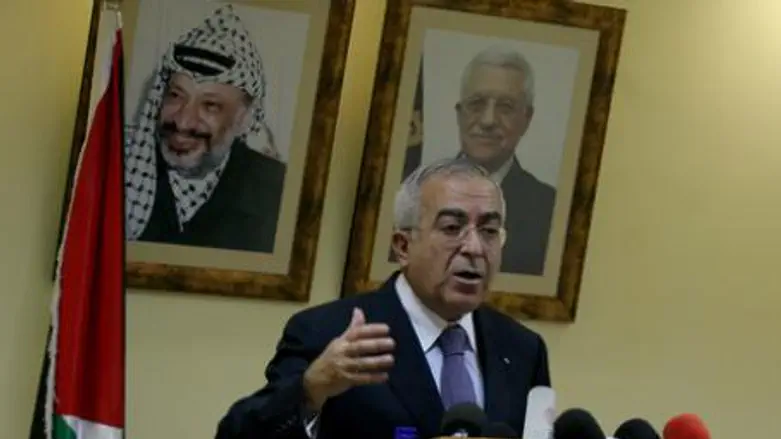 Fayyad
Israel news photo: Flash 90
Palestinian Authority Prime Minister Salam Fayyad said that by 2013, the PA will be able to finance its budget without the need for foreign aid, but then corrected himself..
Speaking to Reuters on Saturday, Fayyad, who is a former World Bank economist, said that the PA would still need foreign aid to finance development projects after 2013, but, in his opinion, will no longer require budget support.
According to the Reuters report, budget support coming from foreign donors has dropped over the past two years: in 2008 there were $1.8 billion in foreign aid given to the PA, while in 2010 there was only a sum of $1.2 billion. This number is expected to drop further in 2011 to $1 billion. The financial aid comes from Western countries such as the United States. The European Union also contributes aid to the PA, with a budget this year equivalent to about $370 million.
Currently the PA, whose government rules in Judea and Samaria, pays salaries to 148,000 government employees, including 76,000 in the Gaza Strip, where the Hamas terrorist group is in control and does not contribute any funds to the PA budget.
Fayyad said that despite his optimistic outlook for the future, there is currently a deficit, largely due to a shortfall in funding from Arab states. The financial crisis has caused the PA to take cost-cutting measure, including reducing spending on vehicles used by government employees.
More delays in distribution aid, said Fayyad, would lead to expensive loans from banks. "The more the funds are not paid on time, the more we borrow from banks," he said. Currently, the PA's total debt to banks is estimated at about $800 million.
Earlier this year, the European Union announced that it would continue to bail out the PA, despite the fact that by the first three months of this year it had already paid nearly 50 percent of what was budgeted for the year.
The EU also expressed concerns in May that its investments of billions of euros for the PA to become a new Arab country within Israel's borders
will go to waste
if the American-mediated diplomatic process flops.