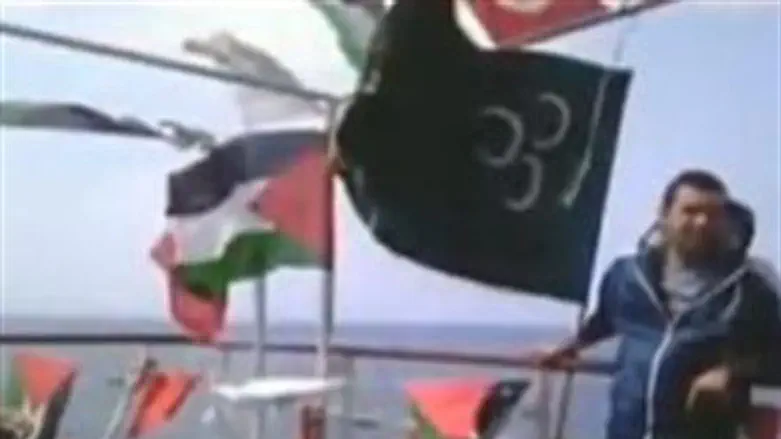 Flotilla probe screenshot from German TV
Israel news photo: Sudwestrundfunk TV
Two months after an attempt to break Israel's naval blockade on Hamas ended in bloodshed, international "free Palestine" activists are at it again, this time planning a larger flotilla accompanied by an airplane, according to Channel 2 News.
The activists are collecting money in San Francisco to fund the new, bigger flotilla. The airplane is to carry aid in an attempt to portray the journey as a humanitarian mission, despite the fact that aid to Gaza can be transferred by land with Israel's assistance.
The stated goal of the Free Palestine group is to force Israel to hand over Gaza and all land east of the 1949 armistice line to Arab control, and to give Arabs in those areas complete freedom of movement – including the freedom for Hamas in Gaza to bring in goods and people by sea and by air with no supervision.
Israel argues that Hamas would use such freedom to import weapons far more lethal than those it has used to date. Gaza terrorists have previously made efforts to smuggle in advanced weapons by sea, most notably using the ship Karin A, which was intercepted by Israeli troops.
Hamas has managed to smuggle many weapons into Gaza using tunnels from Egypt; those weapons have been used to carry out hundreds of terrorist attacks targeting Israeli civilians in the western Negev.
Israeli officials are said to be following the planned airplane journey with concern, and are readying diplomatic initiatives aimed at preventing the plane from ever taking off to Gaza.