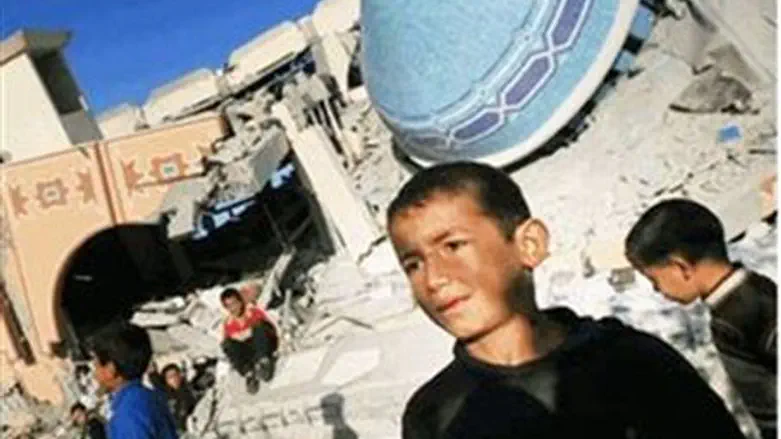 UNRWA
UNRWA Website
As direct peace talks between Israel and the Palestinian Authority are set to resume in Washington on Thursday, Arutz 7 spoke on Sunday with investigative journalist David Bedein about his film "For the Sake of Nakba". The film, which details the connection between the United Nations Relief and Works Agency (UNRWA) and PA incitement, will be shown on Monday on Capitol Hill to members of Congress and other senior American officials.
The film presents interviews with senior PA officials, school principals, as well as students and teachers who say that their goal is the lands of Israeli cities such as Be'er Sheva, Ashkelon and Ashdod.
Bedein directs the bulk of his criticism towards UNRWA, who is responsible, among other things, for PA schools both in Gaza and in Judea and Samaria. "UNRWA commemorates the Nakba [catastrophe, the term used by Arabs to describe the creation of Israel, held on May 15, the day after the declaration of the State, ed.] in cooperation with the Palestinian Authority," he said, and added: "It is a central topic in the PA curriculum."
The film depicts the walls of an UNRWA school, on which there is a portrait of a female terrorist, a graduate of the school, who committed a suicide attack against Israelis. The portrait of another terrorist is also drawn on the walls of the school.
In order to film "For the Sake of Nakba", Bedein employed an experienced television crew who conducted interviews with teachers, principals and students, all of whom discussed an armed struggle against Israel as an educational target in the PA.
"When everyone else speaks of Judea and Samaria, they speak about all the land," said Bedein. He mentioned an interview he once conducted with Yasser Arafat, in which he asked the former PA President if he would agree to Israeli sovereignty in places such as Lod and Ramla, well within the pre 1967 borders of Israel. "Arafat told me that he would not agree to such a thing because it is an illegal settlement," said Bedein. "In contrast, places such as Efrat and Gush Etzion are considered an 'ordinary' settlement."
Bedein believes that for this reason, Arabs did not populate the former communities in Gush Katif. He estimates that approximately a quarter of a million Arabs could have lived in these areas, yet PA leadership prefers not to populate these areas so that it can continue to aspire to receive the 1948 territories. "They consider their land to be Ashkelon, Be'er Sheva and Ashdod, as they told me," said Bedein. "Even a full withdrawal from Judea and Samaria will not satisfy them."
According to Bedein, the real stand of the PA must be determined at the beginning of negotiations, and this should be done by Israel simply demanding that the PA stop educating on topics such as the return to 1948 lands, the armed struggle, and the encouraging of shahids (martyrs).
UNRWA on its part has responded to Bedein's accusations by essentially calling him a liar. "All their spokespeople say that I'm a liar. One spokesman said that the picture [of the female terrorist] is not in the school. Another said that it's not their school. As far as they're concerned, every excuse is possible."
He explained that he was able to enter these regions with a camera without being hurt by the local Arab residents, because "a camera to them is a holy object. They don't believe that anyone will film something negative about them."
In another recent interview with Bedein, he said that
UNRWA uses textbooks
written by the PA to incite young schoolchildren to armed struggle against Israel. The books in question include passages praising terrorists killed while attacking Israel as "martyrs". Bedein also found that the same textbooks are also used in Arab schools in Jerusalem, a fact which was confirmed by an interview his investigative team had conducted with PA Minister of Education Lamis al-Alami, who said that the textbooks provided by the PA for UNRWA schools are the precisely the same in Jerusalem as in Ramallah, Shechem and Gaza.