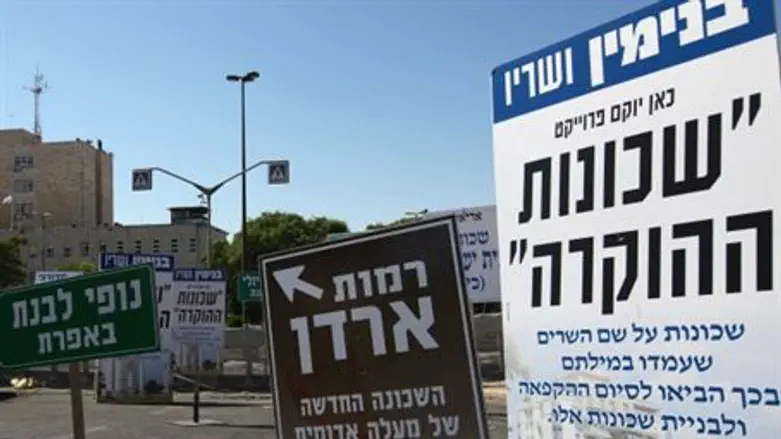 Yesha rally
Israel news photo: Flash 90
Prime Minister Binyamin Netanyahu says he would like to meet with PA Chairman Mahmoud Abbas every two weeks in the framework of the direct diplomatic talks that are to begin next week. PA negotiator Saeb Erekat responds that the freeze is the main issue now, not the scheduling of the negotiations.
The Associated Press reported that "the Israeli leader's proposal appears to indicate that he is serious about the talks and won't allow them to fizzle out after next week's meeting in the U.S." 
Chief PA negotiator Saeb Erekat refused to commit himself, however, and said he would not accept it at the present time. "We are not against this in principle, it's just premature to talk about this now," AP quoted him as saying. Other reports said that Erekat emphasized that no progress could be made until Israel agreed to continue the construction freeze in Judea and Samaria.
Talks to Kick Off This Week
Netanyahu will be departing on Tuesday for Washington to take part in the first session of the renewed talks. He emphasized again on Sunday that the talks will be held without pre-conditions. The PA has demanded that Israel agree to continue the ten-month freeze, to which Israel agreed for the express purpose of getting the PA to agree to talks – which the PA refused to do until now.

"For [nine] months we have been waiting for the Palestinians to please come to the negotiations," Foreign Minister Avigdor Lieberman said last week. "They come at the last month - that's their problem."
No substantive issues are expected to be on the table between Netanyahu and Abbas; Netanyahu himself has said that the event will rather be more of a "White House Lawn" ceremony, including U.S. President Barack Obama, Egyptian President Hosni Mubarak and Jordan's King Hussein.
Cabinet Minister Silvan Shalom, however, a former Foreign Minister, said Sunday morning that he now understands that the talks will be more of a ceremony and that the talks will actually begin in earnest this week.
PA, Yesha Council Pressures
Opposing pressures to end and retain the construction freeze continue to be exerted. While Fatah Central Committee member and PA minister Hussein A-Sheikh says that the PA will not accept construction even in the settlement blocs, the Yesha Council of Jewish Communities in Judea and Samaria demonstrated outside the Cabinet meeting Sunday morning. Members of the Yesha Council sought to remind most of the Cabinet ministers of their previous pledges to resume construction on the date the 10-month freeze expires four weeks from now. They held signs with names of imaginary neighborhoods named after the Cabinet ministers in Judea and Samaria "who kept their word and enabled the end of the freeze in Yesha."
"I am convinced that if the Palestinian leadership takes these negotiations as seriously as we do," Netanyahu told the Cabinet Sunday morning, "we can reach a stable agreement, and not just a deal for a ceasefire between wars."