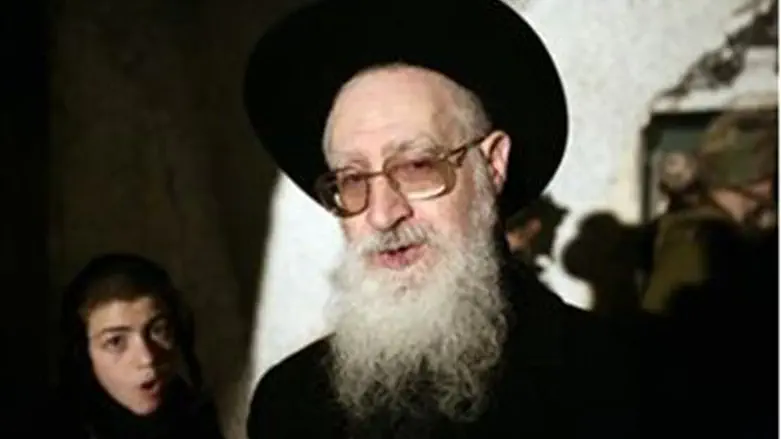 Rabbi Yaakov Yosef
Flash 90
Sephardic rabbis have signed a public petition in support of Rabbi Yaakov Yosef, son of Shas spiritual leader Rabbi Ovadiah Yosef, after he was summoned for questioning by police.
Police suspect him of "incitement" because of his support for Rabbi Yitzchak Shapira, after Shapira's publication of a book called "The Torah of the King." 
Police summoned Rabbi Yosef for questioning two weeks ago, together with Rabbi Dov Lior of Kiryat Arba, but the two have not complied with the summons and have said that they do not intend to do so.
The petition is signed by Rabbi Yehoshua Muallem, Rabbi Yehoshua Maman, Rabbi Meir Mazouz, Rabbi Reuven Elbaz, Rabbi Benayahu Shmueli, Rabbi Ben-Tzion Mutzafi, Rabbi Aharon Yarchi, Rabbi Yitzchak Ratzabi, Rabbi Moshe Ben-Abu, Rabbi Yitzchak Barda, Rabbi Shmuel Pinchasi, Rabbi Ari Avraham and Rabbi Semadja Eliyahu Avisror.
"The Torah of the King" deals with Jewish Law pertaining to Kings of Israel and describes the situations in which a Jew is permitted to kill a non-Jew. The book, recently published in its second edition, does not contain any explicit references to Arabs. The Supreme Court has ruled that its contents are not grounds for an investigation against the author.
Nationalists and religious figures have noted that the State never prosecutes leftist academics for voicing highly controversial opinions in support of Israel's enemies, citing academic freedom as the reason for its lenience. Similar freedom is not being offered to rabbis, they say.