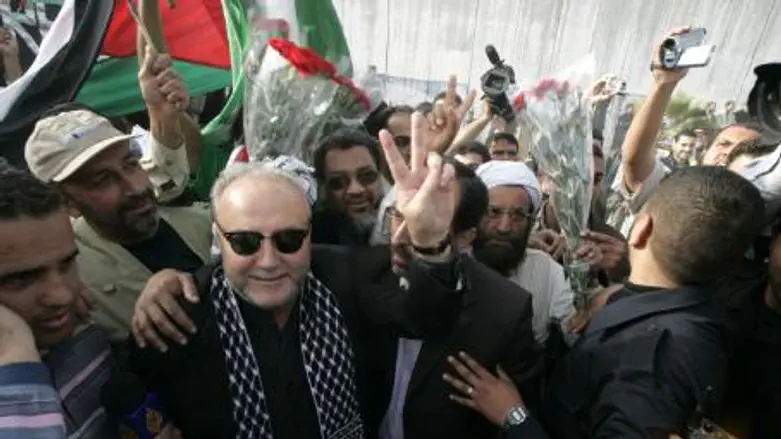 British MP George Galloway in Gaza
Former British MP and longtime anti-Israel activist George Galloway has announced that a new international flotilla from Britain, Morocco and Qatar will set sail for Gaza on September 18 with the aim of breaking Israel's naval blockade on Hamas. 
Galloway had previously announced plans for another attempt to break the embargo on Hamas by land and sea but gave no details.
The "Viva Palestina" convoy follows a previous flotilla, launched in May, which attempted to reach Gaza despite warnings from the Israeli navy and offers to allow activists to send aid to Gaza by land. On May 31 naval commandos boarded the ships to force them to turn towards Ashdod. Commandos were attacked by armed passengers on one ship, the Turkish Mavi Marmara, and opened fire, killing nine members of the pro-terror Turkish group IHH.
The incident caused a rift in Israel's ties with Turkey and led the United Nations to announce that it would open a probe.
Galloway openly stated that his goal is to open the borders of Hamas-run Gaza and not to bring aid to its civilian population. The flotilla "aims to sustain the momentum to lift the siege on Gaza," he said.
Another goal is to isolate Israel "in the way that apartheid South Africa was isolated," added Galloway, who has been barred from Canada over his pro-terror activity.
The former MP has previously donated tens of thousands of dollars to Hamas, which he refers to as "the elected government of Palestine." In 2009 he met with Hamas's Gaza head, Ismail Haniyeh, and gave him three cars and $35,000.
The British contingent in the September flotilla will include passengers from New Zealand. Two people who plan to participate spoke to the New Zealand Herald over the weekend. One of them, Nicci Enchmarch, was a passenger aboard the Mavi Marmara who was unhurt in the May shootout and hopes to try again to reach Gaza.
The leader of the New Zealand contingent, Roger Fowler, is a member of the Socialist Party who has been jailed several times. He referred to the May clash aboard the Mavi Marmara as "a major tipping point in the world consciousness," and expressed hope that media attention to the next flotilla would help Viva Palestina activists to further their goals.
The September flotilla will carry medical supplies, baby formula and other goods that are already allowed into Gaza and are imported to the area on a daily basis via land crossings in Israel and Egypt.