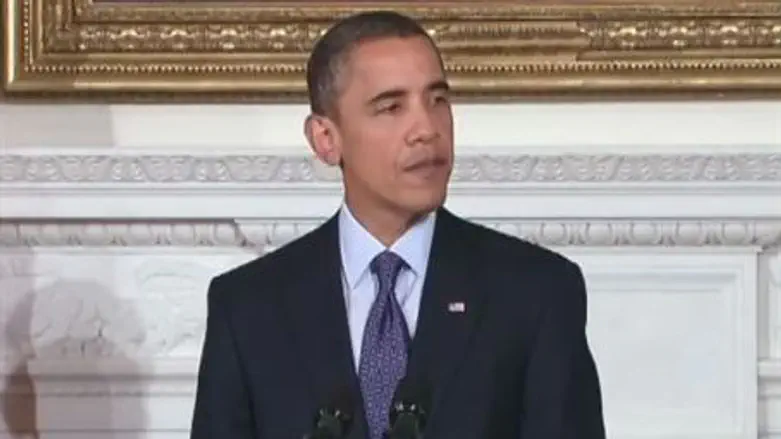 President Barack Obama
Israel news photo: The White House
U.S. President Barack Obama has announced his strong support for the New York City Ground Zero mosque, even as a political commentator is questioning possible ties between Iran and the mosque's organizer, Imam Feisal Abdul Rauf. 
Obama came out in defense of the mosque at a Friday night "iftar" dinner at the White House in which he joined others breaking the daily fast for the Muslim holy month of Ramadan. Obama is not the first to hold such an affair; his predecessor, President George W. Bush, hosted an annual iftar to honor the Muslim holiday. 
"As a citizen, and as president, I believe that Muslims have the same right to practice their religion as anyone else in this country," the president said in prepared remarks. "This is America, and our commitment to religious freedom must be unshakable. The principle that people of all faiths are welcome in this country, and will not be treated differently by their government, is essential to who we are."
An Iranian Connection?
Over the weekend, political writer Anne Bayefsky noted in a post on the PajamasMedia blog that a new controversy has further complicated the issue of the mosque on the site of the old Cordoba House.
Two weeks ago, the project had posted an article discussing the Shariah Index Project, an initiative to create a code with which to rate "Islamicity" of a Muslim-majority nation, or "how well... nations comply in practice with this Islamic benchmark of an Islamic State."
Among the photos embedded in the article was one that depicted Abdul Rauf (pictured) together with Iranian Mohammad Javad Larijani, secretary-general of the High Council for Human Rights in Iran, at an event sponsored by the Cordoba Initiative in Malaysia in 2008.
On Friday, Bayefsky wrote, the photo had mysteriously disappeared from the site. Wondering whether the disappearance was an attempt to cover up an Iranian connection, the political columnist pointed out that Larijani was "the Iranian representative who defended Iran's abysmal human rights record before the U.N. Human Rights Council in February and June of this year."
Among other remarks, Larijani told the Council, "Torture is one thing and punishment is another thing... This is a conceptual dispute. Some forms of these punishments should not be considered torture according to our law."
Mideast Junket for 9/11 Mosque Imam
Last week, it was announced that the State Department plans to send Abdul Rauf to Qatar, Bahrain and United Arab Emirates as quasi-ambassador to explain U.S. religious tolerance traditions, and how Islam is perceived by the average American.
The imam was told by State Department officials that he cannot use the trip to raise money for the mosque he is building, just two blocks north of the site where nearly three thousand people were killed in a 2001 terrorist attack by Al Qaeda.
State Department spokesman P.J. Crowley told reporters last Tuesday that Abdul Rauf's "work on tolerance and religious diversity is well-known, and he brings a moderate perspective to foreign audiences on what it's like to be a practicing Muslim in the United States."
Crowley claimed that the Obama administration had no position on what he said was basically a local issue, but journalist Howard LaFranchi of The Christian Monitor has pointed out that the State Department posted on America.gov, a web site intended for foreign viewers, a transcript of an August 3 speech by New York City Mayor Michael Bloomberg supporting the mosque project. The remarks were helpfully translated into Arabic and Farsi.
Crowley explained the post by claiming "we thought it was useful for people overseas to understand the perspectives on this issue."
The announcement of Abdul Rauf's impending trip angered at least two Republican members of Congress, Representative Peter King of New York, and Ileana Ros-Lehtinen of Florida, who slammed the move in a statement of their own.
"It is unacceptable that U.S. taxpayers are being forced to fund Feisal Abdul Rauf's trip to the Middle East," the two lawmakers told the media. "This radical is a terrible choice to be one of the faces for our country overseas. The USA should be using public diplomacy programs to combat extremism, not to endorse it."
The American Center for Law and Justice, meanwhile, has submitted a protest with the State Department over the trip. The group has already filed a lawsuit against the City of New York to block construction of the proposed Cordoba House mosque, referred to by its opponents as the "Ground Zero mosque."
Obama strove in his remarks to differentiate the Al Qaeda terrorists who attacked and destroyed the Twin Towers of the World Trade Center and the Pentagon on September 11, 2001 from Islam.
"Al Qaeda's cause is not Islam – it is a gross distortion of Islam," Obama said. "In fact, Al Qaeda has killed more Muslims than people of any other religion, and that list includes innocent Muslims who were killed on 9/11."
New York City Mayor Michael R. Bloomberg, who has also has been a strong supporter of the mosque, quickly followed with a statement praising for Obama's speech.
"This proposed mosque and community center in Lower Manhattan is as important a test of the separation of church and state as we may see in our lifetime, and I applaud President Obama's clarion defense of the freedom of religion tonight," he said.