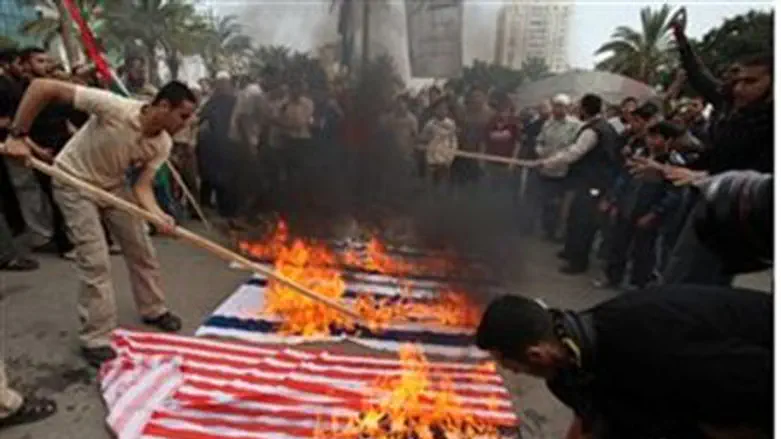 Hamas in Gaza
Israel news photo
A showdown in Gaza between Syrian and Iranian-backed factions is likely to occur any day, Debkafile reports, quoting a military source. The source said that the possible clash would be caused by the strained relations between the ruling Hamas party, led by Khaled Mashaal in Damascus, and the Islamic Jihad, Iran's proxy in Gaza. Saudi Arabia's recent move to pull Syria away from supporting the Hizbullah and Iran, said Debkafile, is one of the latest developments that may spark an internal Gaza war.

Hamas and Islamic Jihad are both reportedly preparing for a fight, with both sides ordering a Gaza-wide call-up of their forces.

The mainstream media in Israel seems to be ignoring these reports, leaving alternative sources to debate the developments. The Elder of Ziyon, pro-Israel blog said that "for a while it looked like Hamas had a pretty strong grip on security in Gaza, but recent reports indicate that things might be fraying at the edges."

The blog cites several Arabic language reports on violent actions between factions in Gaza over recent days, including:

Three separate bomb attacks since Friday.
A peaceful PFLP protest that was broken up violently by Hamas police with batons.
An Al Jazeera reporter being attacked by Hamas police in from of his children.
A major clash in Gaza City, where one was killed and seven were wounded.
The blog summarizes the situation by saying that while, "a couple of years ago, this would have been a typical week in Gaza, [when] things had certainly seemed to be calming down internally. More troubling is that some of these attacks were not mentioned in the daily Palestinian Arab press monitor, so it is possible that the Arabic media is missing some of them."