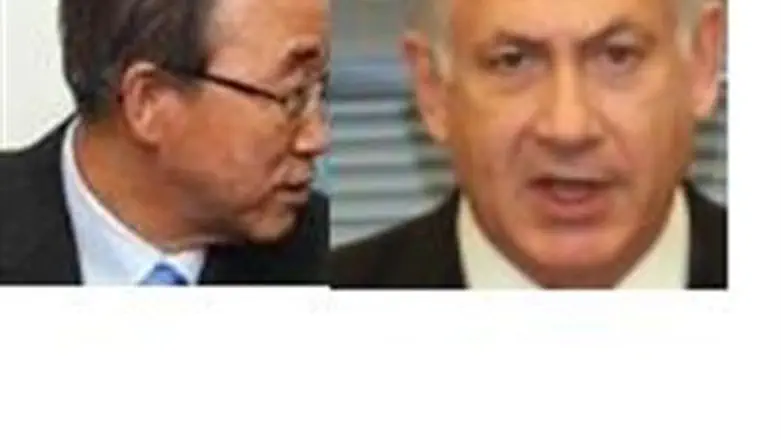 Ban Ki-Moon and Netanyahu
Israel news photo montage
United Nations Secretary General Ban Ki-Moon and Prime Minister Binyamin Netanyahu contradicted each other Monday night concerning a UN investigating team's privileges to question the IDF on the May 31 flotilla clash.
Ban told reporters Monday night, "There was no such agreement behind the scenes" with Israel that the U.N. panel would not directly question army officers.
The office of Prime Minister Netanyahu quickly issued a stern reply stating, "Prime Minister Benjamin Netanyahu made it absolutely clear that Israel will not cooperate with and will not take part in any panel that seeks to interrogate Israeli soldiers."
A four-member United Nations panel was to convene for the first time on Tuesday, but Prime Minister Netanyahu threatened to pull out of the probe if it attempts to question the IDF. Several weeks after turning down a United Nations investigation, the Prime Minister agreed two weeks ago in an unprecedented move to cooperate and allow the investigating panel partial access to Israeli inquiries.
The IDF recently received the results of an internal probe led by former senior IDF officer Giora Eiland. A second and more wide-ranging probe is being conducted by a committee headed by retired High Court Justice Yaakov Turkel.
The investigation was ordered by the United Nations Security Council. Its rotating president in September will be Turkey, which sponsored the flotilla whose Turkish terror activists violently clashed with Israeli naval commandos.