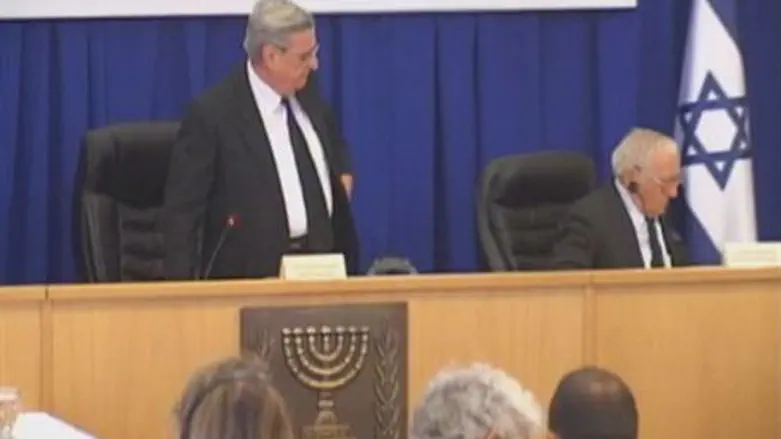 Turkel Commission
Yoni Kempinski
Prime Minister Binyamin Netanyahu testified Monday before the Turkel Commission. The commission was established to probe the fatal clash between members of a Turkish terrorist group and IDF soldiers off the coast of Gaza in late May.
The prime minister defended his actions in the days before the clash, as well as the actions taken by both military leaders and soldiers on the ground during the incident. He credited his directive to embed journalists with IDF troops for the existence of videos that supported Israel's version of events. The clash left nine Turkish citizens dead and several IDF soldiers wounded.
"Unfortunately, slandering the IDF and the State of Israel happens time after time," he said. "It happened during Operation Defensive Shield when a mass slaughter in Jenin was invented. It happened during the Second Lebanon War and during Operation Cast Lead, when Israel was falsely accused of intentionally harming civilians."
He expressed hope that the commission would uncover the facts in the case, thus dispelling the slander against the IDF.
The videos taken of the operation to stop the flotilla, which show armed Turkish passengers attacking and wounding soldiers, are Israel's most effective tool in disproving the slander, Netanyahu said. "Imagine what would have happened if we did not have these videos," he added.
Israel made every possible effort to prevent the flotilla, led by the Turkish ship Mavi Marmara, from reaching Gaza, he said. He did not detail all the efforts made, saying he would go into detail in a closed forum, but was emphatic that "none of our diplomatic efforts would have prevented the Marmara's desire to try to break the blockade."
Israel offered to allow flotilla activists to transfer goods to Gaza, but the offer was refused, Netanyahu pointed out – evidence, he said, that the activists' real goal was to break the naval blockade on Hamas, and not to assist Gaza civilians. "It is worth mentioning that it was Israel, through the UN, and not the flotilla organizers, that sought to ensure that the goods aboard the flotillas were ultimately transferred to Gaza," he added.
He reviewed in detail Israel's efforts to ensure that Gaza civilians receive humanitarian aid and other necessities, and also reviewed Hamas' past and current war crimes against Israel, among them incitement to genocide, deliberate attacks on civilians, and holding an Israeli citizen, Gilad Shalit, incommunicado.
Netanyahu defended his absence on the day that soldiers boarded the Mavi Marmara and were attacked. "I was about to leave for a very important meeting with the President of the United States," he explained. Netanyahu said he authorized Defense Minister Ehud Barak and IDF Chief of Staff Gabi Ashkenazi to act in his place, and asked both to minimize confrontation - an order that was passed on to IDF commanders and soldiers.