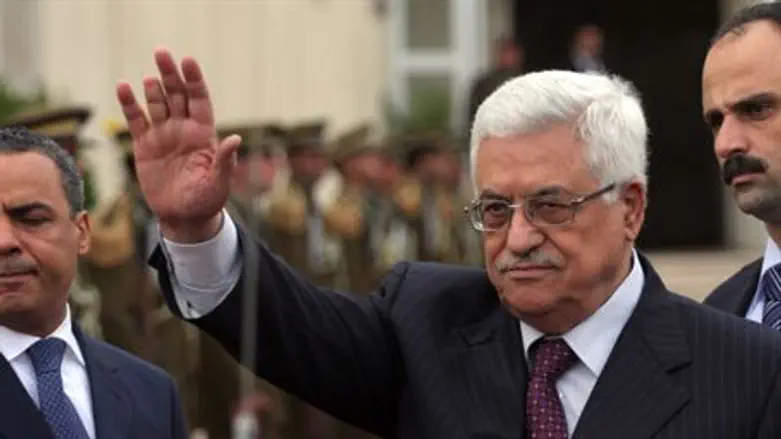 PA Continues to Reject Talks
PA President Mahmoud Abbas rejected on Monday a request by the US to set a date for moving to direct peace negotiations with Israel without preconditions.
The request was presented to Abbas during a meeting that was held between him and David Hale, Deputy to US Middle East Peace Envoy George Mitchell. According to senior PLO official Wassel Abu Yousef, "President Abbas informed Hale that he rejects setting any dates or appointments and reaffirmed the Palestinian position that settlement must be halted and a peace preference has to be defined before moving to direct negotiations."
An official announcement by the PLO executive committee added that the organization continues to demand that a peace reference be defined and the construction in Judea and Samaria come to a halt before any direct talks occur.
Abbas has been under pressure from the US to end the American-sponsored four-month long proximity talks and move to direct negotiations.US President Barack Obama has already said that he would like direct talks to begin in September.
US State Department Spokesman Philip Crowley said on Monday that the US believes that now is the right time for direct negotiations to resume: "We strongly believe that this is the time where the parties need to move from proximity talks into direct negotiations. Our message is this is the right time and it's an opportunity that both sides should not forsake."
AFP reported on the weekend that a PA official had said that Obama had warned Abbas in a letter that there would be consequences for ties with Washington if they declined to join new talks. The official described the letter as using a "carrot-and-stick approach" and added that the letter warned that "Obama will absolutely not accept the rejection of his recommendation to move to direct negotiations and that there will be consequences for such a rejection in the form of a lack of trust in president Abbas and the Palestinian side."
During his daily press briefing on Monday, Crowley would not directly comment on whether President Obama had told Abbas that failure to resume direct negotiations would hurt relations between the US and the PA, only saying that said there was "a strong sense of urgency as to where we are."
He added that he was encouraged by last week's decision by the Arab League to endorse direct talks.
Despite Abbas' continued refusal to move to direct negotiations, one of his aides revealed on Monday that the PA is considering holding a three-way meeting between Israeli, PA and US officials in order to find a reference for launching direct negotiations. According to other reports in the Israeli media, the three-way meeting was suggested by the US and if the PA agrees to it, the meeting will be held next week with the participation of Mitchell.
In Tuesday's press briefing, Crowley confirmed that Middle East Peace Envoy George Mitchell "will be traveling to the region soon and we'll continue the dialogue that we have ongoing to try to get the parties into direct negotiations."
Crowley would not confirm whether Mitchell would indeed arrive next week, only saying that "we're still working on the travel arrangements."