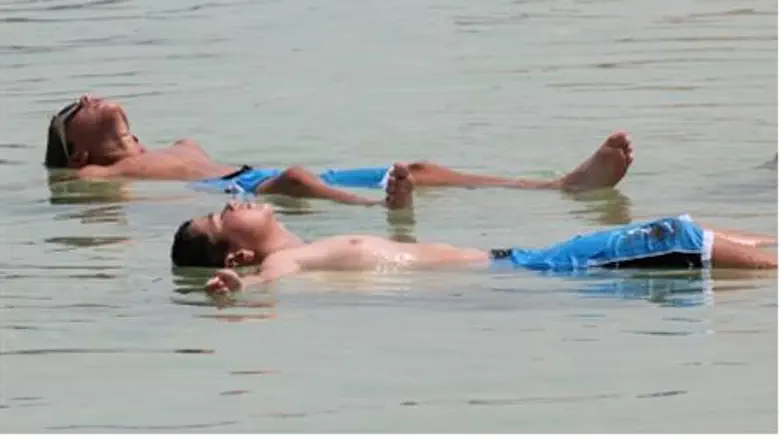 Floating in the Dead Sea
Israel news photo: Flash 9i0
The Dead Sea is great for floaters, but no floating voters are allowed, say tourism officials, who want your vote to make the "lowest point on Earth" officially one of the "New Seven Wonders of the World."
As part of its global marketing effort to promote the Dead Sea as a unique tourist destination and as a finalist in the New7Wonders of Nature online campaign, the ministry has launched a dedicated multi-lingual Dead Sea website. It also has posted a social media campaign to include Facebook, Twitter and YouTube.
Under the slogan "The Deepest Wonder of the World", the English-language website will shortly be available in Russian, French, German, Italian, Portuguese, Chinese and Korean. It also will link to the campaign voting pages and serve as an information resource about the region and the Dead Sea's candidacy in the New7Wonders of Nature contest.
Visitors to the website can access information on the natural, religious, historical and cultural sites in the Dead Sea area as well as accommodation, attractions and the Dead Sea's health remedies.
Tourism Minister Stas Misezhnikov said, "The Dead Sea, one of Israel's natural and tourism treasures, offers visitors a unique experience rich in history, archaeology and wellness. With this online campaign, we invite veteran fans and supporters of the Dead Sea, and those who are discovering it for the first time, to visit and vote for it in the campaign."
The Dead Sea has consistently remained among the top 14 of the 28 finalists since the final stage of the New7Wonders of Nature campaign began in July 2009. Other finalists include the Amazon River, the Galapagos Islands, the Grand Canyon, the Great Barrier Reef and the Maldives.
About a billion votes are expected to be cast before campaign ends on November 11, 2011 and it is estimated that the winning seven finalists will need to secure about 300-400 million votes.
The Dead Sea is one of Israel's most popular tourism sites, attracting approximately 45 percent incoming tourists.