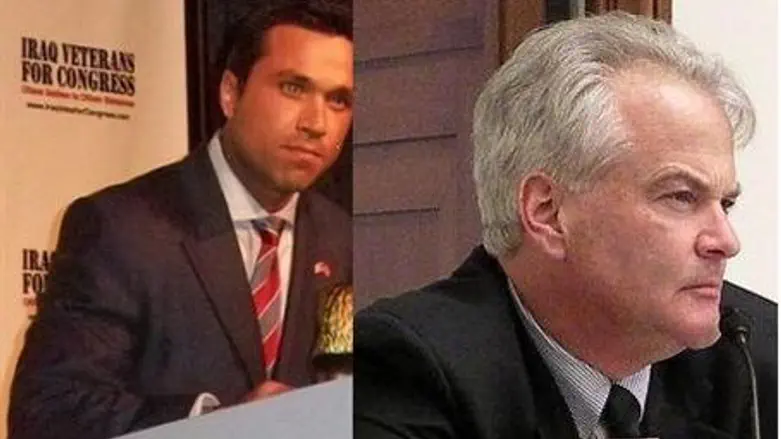 Republican Grimm (left) and Democrat McMahon
Israel news photo montage
Democrats, already fighting against a backlash that threatens U.S. President Barack Obama's Congressional majority, suffered another setback with the leak of GOP "Jewish money" donations.
New York Congressman Mika McMahon fired his communications director Jennifer Nelson after she leaked a list of donations of "Jewish money" for Republican challenger and former FBI agent Michael Grimm. The Anti-Defamation League praised the dismissal.
Nelson's intention apparently was to show that Grimm has little financial support from the Jewish community in Staten Island, but releasing the list provided political fodder for Grimm and damaged McMahon.
Nelson gave the list to the Jewish Observer and was quoted by the newspaper as saying, "Where is Grimm's money coming from? There is a lot of Jewish money, a lot of money from people in Florida and Manhattan, retirees."
McMahon, trying to minimize the political fallout, told the Politco.com website, "I was outraged by these unfortunate remarks which were unauthorized and are in no way indicative of my beliefs or of my campaign," McMahon said.
Grimm took advantage of the political goof and told the conservative Red State website, "I was speechless at first, because the idea that something like this could happen in 2010 on this level as U.S. Congressman? It was beyond disturbing. It is nothing less than outrageous. Especially for someone like me. I'm a combat veteran... these are the things exactly that I fought for, for the liberty and freedoms that I think at this point in our lives and as Americans, we would be much further down the road.
"I don't think of my donors based on their ethnicity or their religion," he added. "They're American patriots."
The embarrassing incident earned Grimm an immediate endorsement on Facebook from Sarah Palin, a front-running candidate for the Republican party's bid in 2012 to unseat U.S. President Barack Obama. The GOP McCain-Palin ticket won McMahon's district in the 2008 election.
Jim Geraghty of the National Review wrote, "Let's assume, for the moment, that McMahon's campaign is not a hotbed of anti-Semitism, a benefit of the doubt that he has not yet earned. At best, this suggests his operation is riven with folks who have the worst of an Al Davis 'just win, baby' mentality; it's not that they hate Jews, mind you, but they thought this would be a good way to somehow hurt his opponent and appeal to the anti-Semitism of others. It's not that he sought to foster suspicion and hatred of Jews, mind you, merely that he sought to profit from it politically."
Red State's Moe Lane added, "You would think that if McMahon wanted to prove that Grimm was getting mostly out-of-district money, he'd pass out a list of Grimm's out-of-district donors. Not a list of Grimm's Jewish donors."