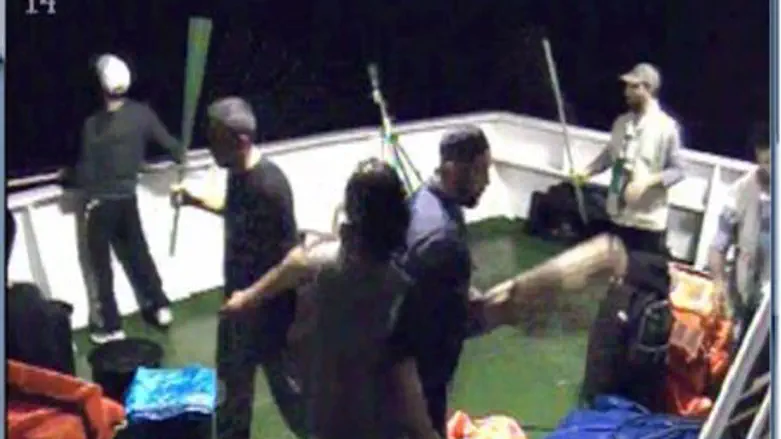 Terrorists on flotilla ship
Israel news photo: Flash 90 / IDF
Germany in effect vindicated Israel Monday by outlawing the IHH "charity" group whose Turkish branch viciously attacked Israeli Navy commandoes on the high seas. Germany said that IHH is linked with Hamas, which the European Union classifies as a terrorist organization.
The United Nations has accused Israel of wrongfully attacking the IHH-sponsored Mavi Marmara ship.
The German branch of the IHH was not directly associated with the IHH in Turkey, which organized the six-ship flotilla that was stopped by Israel May 31 and diverted to Ashdod. After the ships were unloaded, it was discovered that the Mavi Marmara vessel was not carrying any humanitarian aid.
European Jewish Congress president Dr. Moshe Kantor applauded Berlin's decision and called on the rest of the EU to follow suit.
"Over a month ago, we called on front-groups like the IHH to be proscribed and banned from raising funds in Europe. Now that Germany has shown the way, we hope that European Union and other European governments will officially ban the IHH," he said.
Dr. Kantor added, "Today, there is a global network of terror that works under our noses in Europe, and they try and stay one step ahead of the authorities. It is unfortunate that it took the tragic flotilla incident to wake us up to this reality."
German Interior Minister Thomas de Maiziere charged that the IHH—officially known as the International Humanitarian Relief Organization—used "the cover of humanitarian aid [and] supported Gaza-based so-called social associations which are attributable to Hamas, for a long period of time and to a considerable financial extent."
Israeli intelligence officials and researchers have provided widespread evidence that IHH terror activists thoroughly planned to attack Israeli navy commandos who intercepted the Mavi Marmara ship due its announced destination of Gaza. Israel maintains sovereignty over Gaza's coastal waters.