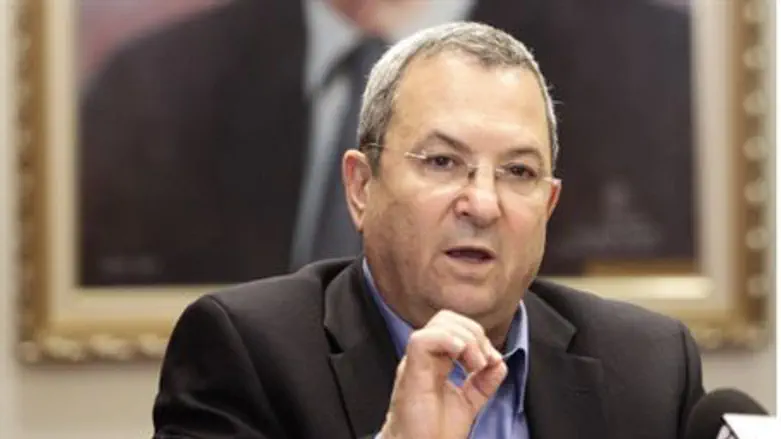 Ehud Barak
Israel news photo: Flash 90
Coalition partner Defense Minister Ehud Barak, head of the Labor party and who is on another visit to the United States, has sided with the American government to oppose Jerusalem's proposed park archaeological.
He released a statement Tuesday that the proposed park and tourist center, which would require wreckng 22 illegally built Arab homes while making legal 66 others, lacks "common sense" and "a sense of timing."
He added, "The plan to make room for an Israeli tourist center could raise tensions in the divided city and deepen a conflict with the Americans. The Obama administration has already condemned the plan."
The U.S. State Department told reporters Monday afternoon that the proposal "undermines" American efforts to mediate talks between the Palestinian Authority and Israel for a new Arab state within Israel's borders. The proposed park is located in the Silwan Valley, part of the area that the PA demands as being under its control for its desired new Arab state where it wants to divide Jerusalem and place its capital.
Barak's statement that the plan could easily be postponed ignored the Israeli government's statement Monday that the proposal needs to mount a long bureaucratic process that precludes any work beginning in the near future.
This is a preliminary planning procedure and it still gives time, more than enough time, for dialogue to continue between the municipal authorities and residents of the neighborhood in the hope that an agreed solution can be found," said Israeli government spokesman Mark Regev.
Tuesday morning's statement by Labor party chairman Barak is the second time in three months he has opposed the Netanyahu government while winning points with a cooperative U.S. President Barack Obama.
During his visit to the White House in April, President Obama warmly received Barak, in direct contrast to the chilly reception given Prime Minister Binyamin Netanyahu, who was denied the traditional lunch or dinner with the President and an opportunity for media photos.
Barak, whose divided Labor party holds only 13 seats in the Knesset, immediately called for a wide coalition after returning from Washington, meaning that the center-left Kadima party should be included.
The Obama administration's feeling of comfort with Barak was indicated in a report Monday by Laura Rozen, writing for Politico.com, where she wrote that, "officials suggested that the Obama administration might try to use the quiet visit of Israeli Defense Minister Ehud Barak to Washington this week as an opportunity 'to try to patch things up, if possible, between Israel and Turkey, which have had strong defense ties."