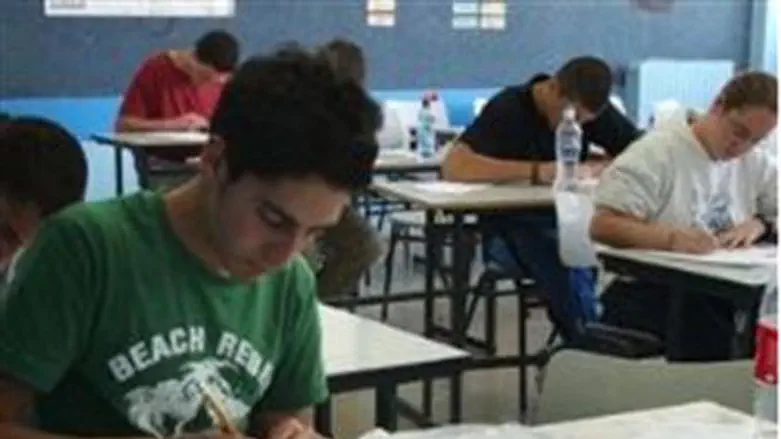 Students (illustrative)
Flash 90
The city of Efrat in Judea has decided to overhaul its Arabic program. Starting soon, children in Efrat will learn Arabic beginning in elementary school, and will continue through high school.
While Arabic is part of the curriculum in Israeli schools beginning in middle school, many students have only a minimal grasp of the language. Educators in Efrat hope that the roughly 3,000 students in their town will gain true proficiency.
"We're trying to increase the number of Arabic speakers," said Efrat Mayor Oded Ravivi. "It's a language that it is important for our children to know, particularly due to the realities in our geographic region."
Organizers originally hoped that the new language courses would be taught by Palestinian Authority Arabs from surrounding villages. The city of Efrat has made several efforts to create ties with local Arab villages, but some of these efforts have been thwarted by the PA.
While local PA Arabs were enthusiastic about the Efrat initiative, they were reluctant to help, Ravivi reported. "They were afraid to openly assist us," he explained.
The PA has declared a boycott of Israeli goods made in Judea and Samaria, and recently expanded the boycott to include jobs in Judea and Samaria. PA Arabs working for Jewish employers in the region have been told to quit.
Despite the setback, Ravivi said organizers were determined to continue with the new program. "One of the ideals held by Efrat's founders was to coexist with our Arab neighbors," he said. "The town doesn't have a security fence to this day, there are agricultural lands farmed by Arabs within the city limits, we help each other with medical equipment and even have a joint used clothes store. Now we need to break down the language barrier."