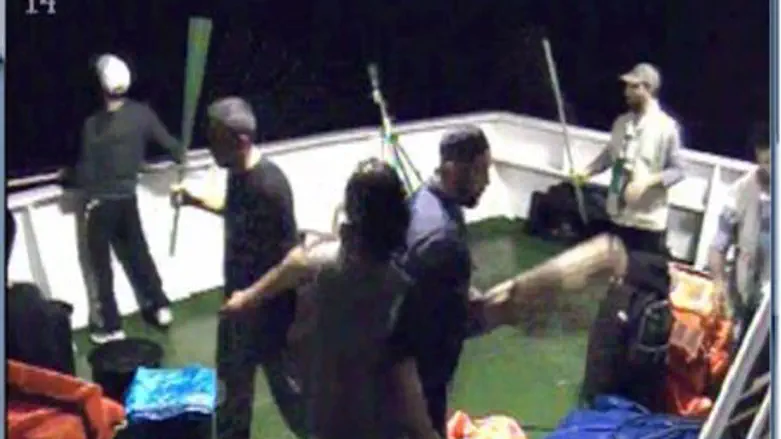 Terrorists on flotilla ship
Israel news photo: Flash 90 / IDF
The United Nations Correspondents Association recently screened a film for foreign journalists that purported to show Israel attacking innocent activists. An Israeli request to show a second film that would put the events of the first in a more accurate light was originally granted, then denied at the last minute. .
The screening was organized by the president of the Correspondents Association, Giampaolo Pioli, who invited correspondents to see an "Israeli attack on human rights activists."
The film shown was shot by one of the passengers on a Gaza-bound flotilla that aimed to break Israel's naval blockade of the Hamas-controlled region. Israeli commandos boarded the boats after they refused, when asked peacefully, to turn aside and dock in Ashdod. On one ship, the Mavi Marmara, soldiers were violently attacked by Turkish activists wielding knives and blunt instruments, leading to a clash in which nine passengers were killed and several passengers and soldiers were wounded.
The footage shows Israeli troops preparing to board the vessel, then switches to scenes in which passengers treat the wounded.
Mirit Cohen, spokeswoman for Israel's UN delegation, asked to attend the event and show a film prepared by the IDF Spokesperson's unit. The IDF has released a film showing members of the pro-terrorist Turkish group IHH on the Mavi Marmara attacking soldiers with metal clubs and throwing one soldier overboard; a second film shows the ship's Chief Officer testifying that the violent attack on soldiers was premeditated.
The UN group originally accepted Cohen's request and agreed to screen the Israeli film. However, just two hours before the event was to begin, Pioli informed Cohen that he would be dropping the Israeli film. He offered to show Israel's side of the story at a different time.
Israel distributed a complaint to foreign correspondents Thursday. "Offering UN media facilities to screen video produced by a one-sided activist while actively preventing a member state of the United Nations an opportunity to respond in real time is severely unethical," Cohen wrote.
The decision to cancel the screening of the Israeli video with just two hours notice "raises grave doubts as to the reason behind this decision," she added. Cohen demanded an official apology for the incident.