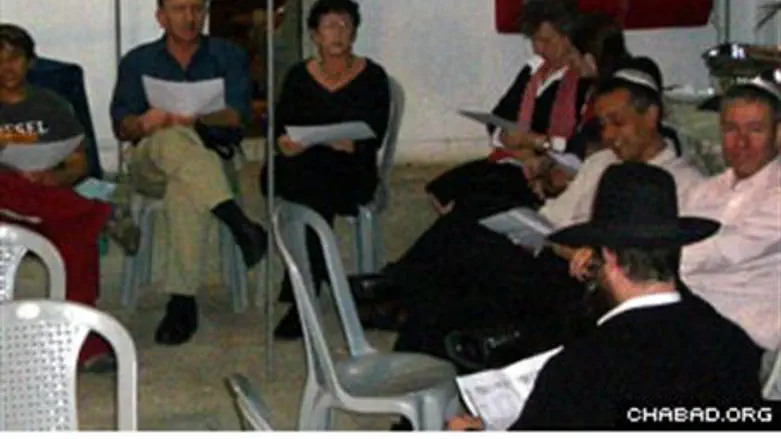 R. Chanoch Gechman teaching Torah in Mumbai
Israel news photo: Chabad.org
The Chabad-Lubavitch movement has announced that it is sending new permanent emissaries to head the Mumbai Chabad House in India.
Rabbi Chanoch and Leiky Gechman, an Israeli couple with connections to the Jewish community of Mumbai, will soon arrive in the South Asian community.
The site was bereft of its former directors, Rabbi Gavriel and Rivka Holtzberg in a brutal attack by radical Muslim terrorists in November 2008.
Since that day, temporary emissaries have taken turns serving the Mumbai Jewish community.
Rabbi Gechman was present at Mumbai's Nariman Chabad House to assist the Holtzbergs after the birth of their son Moishe, who was the only Jew to survive the massacre. His Indian nanny, Sandra Solomon, snatched the child and fled with him in her arms from the besieged building during the attack.
In an emotional address delivered Wednesday, Chabad-Lubavitch educational vice chairman Rabbi Moshe Kotlarsky told some 500 Jewish leaders and ambassadors in Washington D.C., "Rabbi Gavriel and his wife Rivka are of course irreplaceable. But now, there's a rabbi who just got his visa on Friday and will be going there in a few weeks to continue their work, and revive Chabad activities in Mumbai."
More than 40 countries were represented at the Living Legacy conference hosted by American Friends of Lubavitch, where Kotlarsky thanked the Indian government for its efforts to facilitate the appointment.
Rabbi Gechman, 25, who studied rabbinical law under Gavriel Holtzberg, spent five months in Mumbai. Much of that time was invested in teaching Israeli backpackers who flowed through the Chabad House, an activity he said he "enjoyed very much."
His wife Leiky, 23, grew up in Gedera as the eldest daughter of emissaries Rabbi Binyamin and Chana Karniel. A crowded table of guests is nothing new to her, she told Chabad.org. "People would come over to our house suddenly with all kinds of ideas."
Both were considered a perfect fit for Mumbai by Rabbi Nachman Holtzberg, Gavriel's father, who suggested the couple to become the new emissaries. South Asian Chabad-Lubavitch regional director Rabbi Yosef C. Kantor, head of the movement's operations in Thailand, agreed. "Gabi liked him and relied on him, and for good reason. He's a wonderful young rabbi... personable, enthusiastic, organized and dedicated."
Still, Gechman admitted that was in shock when he first saw the news photos of the slaughter that had taken place in the rooms where once he had taught Torah to those who were visiting India. "I still haven't processed that [Gabi and Rivky] are not here," he said. "The reality doesn't fit. Sometimes it seems like they are people who live forever."