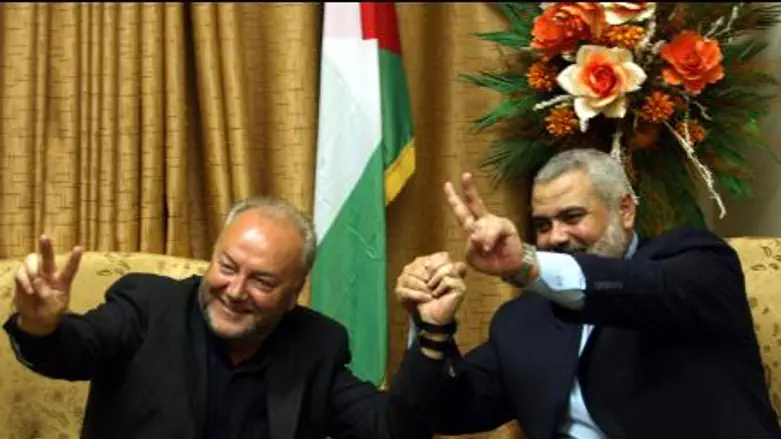 George Galloway
Israel news photo: MEMRI/PRESS TV
Former British MP George Galloway, standing alongside a Hizbullah flag in London, announced a new land-sea attempt to break the embargo on Gaza. Iran's Red Crescent also said it will send ships to Hamas-controlled Gaza to challenge Israel.
Galloway, who recently lost his seat in the House of Commons, protested outside the Israeli embassy this past Saturday and vowed that the land convoy "will leave Britain shortly after the end of Ramadan in September and travel through Europe, down through Turkey and Syria into Jordan".
He said a flotilla of boats also will sail for Gaza under the sponsorship of the Viva Palestina organization, which has been questioned by activists in the United States as being a charity front for a terrorist group. Galloway vowed that the embargo "won't end by resolutions in the [U.N.] Security Council; it won't end by, by G-d it won't end, with ruminations in the Arab League…. We have to break it down ourselves and we will do so."
Galloway previously has visited Gaza in highly publicized visits ostensibly aimed at bringing aid to Gaza residents. Hamas so far has refused to accept truckloads of aid that Israel has tried to transfer to Gaza after unloading it last week from the Turkish-sponsored flotilla, which the Navy escorted to the port in Ashdod.
In Saturday's protest rally, which was covered by the Iran's Press TV, he declared that the shots fired in a flotilla clash between the Israeli Navy and terror activists aboard the Mavi Mamara ship "reverberated around the world," according to a transcript translated by Middle East Media Research Institute (MEMRI).
"This is indeed their [Israel's] Soweto," he said, referring to the 1976 uprising in South Africa. "Just as Soweto began the countdown to the end of racist, apartheid state of South Africa, so the killings of our martyrs on Monday begin the numbering of the days of the Zionist apartheid state of Israel. Be sure, be sure about that," he told the demonstrators.
During his speech, some supporters shouted 'Allahu Akbar,' (G-d is Great) the Muslim cry often used immediately before terrorist attacks.
"Brothers and sisters, …there can be no peace between the occupied and their occupier," Galloway continued. There can only be eternal struggle between them, struggle until justice has prevailed and freedom has been won, and you are a part of that struggle and freedom will be won." (Photo above: Galloway and Hamas leader Ismail Haniyeh.At left, Galloway in London )
Israel has warned all parties that any attempt to reach Gaza will be blocked in order to prevent any attempt to bring more weapons, terrorists and explosives for Hamas and allied terrorists.
Two days after the Iranian Revolutionary Guards said they could escort a flotilla to Gaza, Iranian Red Crescent director Abdolraoof Adibzadeh said it would send aid would send aid by sea to Egypt and then via the border of Rafiah, a city which straddles Gaza and Egypt.
The Red Crescent last December attempted to send a ship of aid to Gaza, but the Israeli Navy intercepted it.
Last Friday, Hizbullah leader Hassan Nasrallah called for the formation of a "Freedom Flotilla II to break the siege on our brothers and sisters in Gaza. This means we will need to form more flotillas of different nationalities and see them on to Gaza."
He promised that "any Lebanese who is on that flotilla will come home safe and sound."