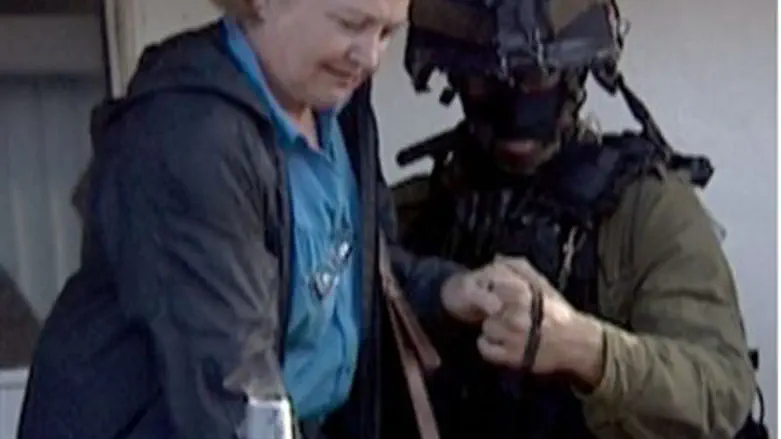 Soldier helps activist off Rachel Corrie ship
Israel news photo: IDF
The United Nations' immediate condemnation last week of Israel is a warning signal that its proposed probe of the flotilla clash will be a farce, according to researchers writing for the conservative-oriented Heritage Foundation.
U.N. Secretary General Ban Ki-moon (pictured below) has proposed an investigating commission that would include representatives of Israel and Turkey and would be headed by former New Zealand Prime Minister Sir Geoffrey Palmer.
Turkey reportedly has objected to the make-up of the proposed panel, and Prime Minister Binyamin Netanyahu will meet on Sunday with the Inner Cabinet of seven senior ministers before giving a formal answer. 
The U.N.'s immediate condemnation already makes the international body look "foolish," according to American Enterprise Institute's Middle East scholar Michael Rubin, quoted by the Cybercast News Service (CNS).
Hours after the clash between Turkish-led terrorist "activists" and the Israeli Navy, the United Nations Security Council issued a statement that condemns" Israel's actions while admitting it acted without any "independent information."  
Jim Phillips, a Middle East and terrorism analyst at the Heritage Foundation, wrote on the think tank's web site, "This whole operation was set up [by the activists] to promote a clash to discredit Israel and provide aid and comfort to Hamas. Unfortunately, the U.N. is piling it on in support of Israel's enemies."
He added, "Institutionally, the U.N. substantively is anti-Israel, in part because it's made up of a body of nations, some of which are extremely anti-Israel," such as Iran, Venezuela, and Saudi Arabia and other anti-Israel states.
Phillips and Dr. Nile Gardiner, Director of the Margaret Thatcher Center for Freedom, also wrote, "The United Nations, the European Union, and the Arab League have all engaged in a frenzy of denunciation -- even before all the facts have been established. Israel continues to be the U.N.'s favorite whipping boy: In the past four years, 33 of the 40 resolutions passed by the U.N. Human Rights Council (HRC) have condemned Israel.  
The Council was responsible for the Goldstone Report last year that accused Israel of war crimes in the 2008-2009 three-week winter battle against the Hamas terrorist infrastructure, which has been responsible for more than 12,000 mortar shell and missile attacks on Israel.
The report "was a prime example of the U.N. publishing a supposedly neutral report written by a panel of 'experts' that included key members who had already reached their own conclusions well before the investigation had even begun," Phillips and Gardiner wrote.