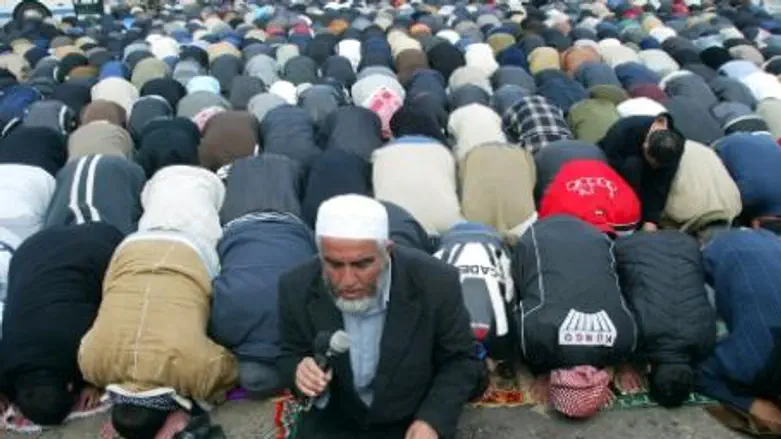 Sheikh Raad Salah
Israel news photo: Flash 90
Sheikh Raed Salah, anti Semitic leader of the northern branch of the Islamic movement, was welcomed back to the Israeli-Arab city of Umm el-Fahm on Thursday after spending several days under arrest. Hundreds of people greeted the sheikh with cries of "Allah is great," and "The sheikh is a hero."
Supporters waved PLO flags and Islamic movement banners.
Salah was detained for his participation in a Gaza-bound flotilla that attempted to challenge Israel's control of maritime traffic to Gaza; the attempt ended in a bloody clash between passengers and IDF soldiers. He was released to house arrest on Thursday along with several other Israeli-Arab public figures who had been on the Gaza-bound boats.
Salah had been aboard the Mavi Marmara, the ship on which fighting broke out. The Mavi Marmara was a Turkish ship, backed by the terrorist-linked IHH organization.
Salah Claims Assassination Conspiracy
In the hours after soldiers and protesters clashed aboard the ships, there were rumors that Salah had been seriously wounded. Salah claimed in court Thursday that soldiers had attempted to assassinate him. "They tried to kill me and shot at someone else they thought was me," he said.
Later in the day members of the Islamic Movement held a press conference titled, "The truth about the assassination attempt against Sheikh Raed Salah." Salah's second-in-command, Sheikh Khamel Hatib, said Prime Minister Binyamin Netanyahu and Defense Minister Ehud Barak were part of a plot to kill the sheikh.
Salah's Anti Semitism
Salah is an anti Israel activist who admitted in an Israeli Court to conferring with foreign agents. His anti-Semitic speeches are based on blood libels: "We are not the ones who eat a meal based on bread and cheese in children's blood," he once said. He called the Jews  "butchers of pregnant women and babies… Thieves, you are the bacteria of all times… The Creator meant for you to be monkeys and losers… Victory is with the Muslims, from the Nile to the Euphrates." 

Hasson: Bibi Strikes Again
Several MKs criticized Salah's release. "Bibi and Lieberman – the serial releasers – strike again. In 1997 Bibi and Lieberman released Sheikh Yassin, and in 2010, they're releasing Salah," said MK Yisrael Hasson.
MK Aryeh Bibi said, "This is a serious mistake. This man attacked IDF soldiers with the intent of harming them, and assisted terrorists. He must not be released, especially not as a peace gesture to Turkey."
MK Nahman Shai agreed, calling the government's decision to support Salah's release "unreasonable." "The government must bring Israeli citizens who were involved in this illegal, violent brigade to justice," he said.