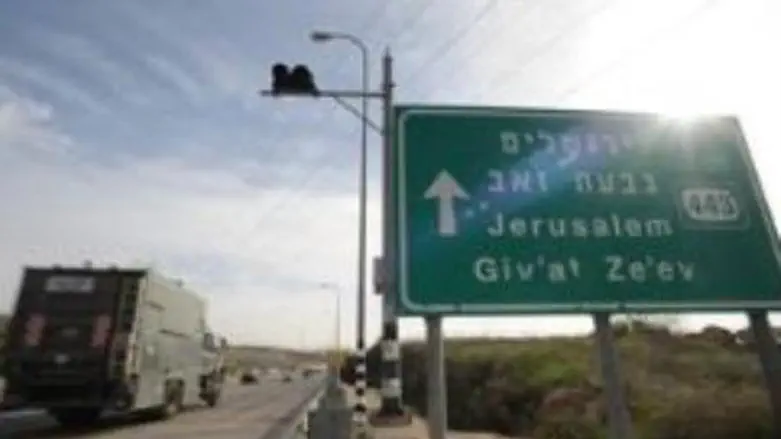 Highway 443
Israel news photo: Flash 90
Highway 443 opened Friday morning to Palestinian Authority traffic, after several years in which the road was closed to PA cars due to terrorism fears. The Supreme Court had ordered the road reopened to all vehicles in Judea and Samaria despite the risk of terrorist attack.
IDF spokespeople said Thursday that the army has worked for months to ensure that all passengers will remain safe despite the changes. The IDF has added stations at entrances to the road at which vehicles will be checked, they said.
Members of Knesset heard about the IDF preparations earlier this week and expressed concern that the measures described would be insufficient. The MKs called to postpone the opening of 443 to PA traffic, but the opening took place as scheduled despite their disapproval.
MKs Call to Change Basic Law
The 443 affair has heightened concern over the judicial system's involvement in security affairs. A group of MKs have now come together in an attempt to change the law to restrict the Supreme Court's involvement in matters of national defense.
A proposal sponsored by MK Yaakov Katz (Ketsale) signed by several MKs from the coalition and opposition, among them Yariv Levin, Avraham Michaeli, Nissim Zeev, and Danny Danon, would change the Basic Law on The Judiciary to state that the Supreme Court does not have the final say on "security matters directly relating to the preservation of human life."
The Basic Laws (Chukei Yesod) relate to the structure of Israeli government and the protection of human rights, and were originally intended as the basis of a future constitution. Basic laws are rarely changed, although most can be altered via a simple majority vote.
Bereaved Father's Protest
Shmuel Landau of Givat Zev has been active in protesting the plan to allow PA vehicles on 443. Landau lost his son Ronen, 17, in a terrorist attack along the highway in 2001. The attack occurred as he was driving Ronen home from Jerusalem.
"Nine years ago my son was murdered in a shooting attack precisely because Palestinians were allowed to travel freely on this highway," Landau told Arutz Sheva. "I decided to protest the opening of the highway [to PA traffic] because it upset me that the Supreme Court did not understand that only after the highway was closed did attacks stop, and I'm afraid for the children, I'm afraid that the terrorists will show us what they are capable of."
Despite his concerns, Landau will continue to travel on Route 443. "I live in Givat Zev, this is the only route I have," he said.
Observers noted that traffic on the road Friday morning was sparse, with few PA cars. It remains to be seen whether Israeli travelers going from Jerusalem to Tel Aviv will opt for the regular Tel Aviv-Jerusalem highway, route 1, instead of 443, in order to avoid PA vehicles, making it even more jammed than it has been when both roads were equally travelled..