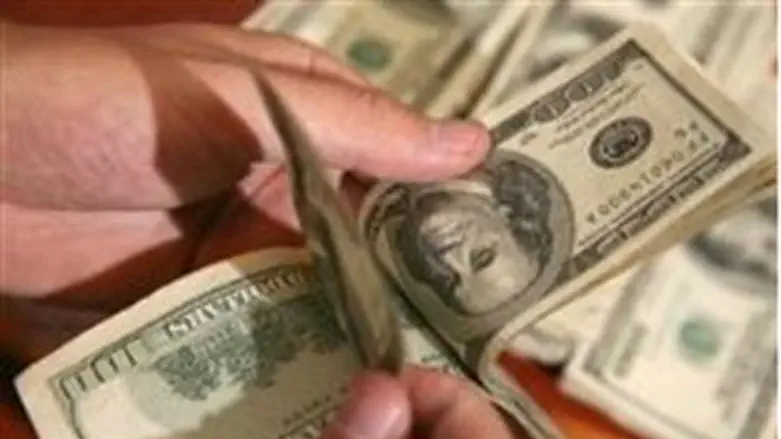 Israel news photo: Flash 90
Once again, with the approval of Defense Minister Ehud Barak, Israel has allowed UNRWA in Gaza to receive a transfer of $12.5 million, in dollars. Hamas apparently makes a percentage on these monies.
UNRWA, the UN Relief and Works Agency that is responsible only for "Palestinian refugees" in Gaza, while one other UN organization, UNHCR,  deals with all the other refugees worldwide, says it needs the money to pay its salaries.
However, in view of the fact that all transactions in Gaza take place in NIS (New Israeli Shekels), the question has been raised: What does UNRWA do with these dollars?
Arutz Sheva's Shimon Cohen found that the money is deposited in the Postal Bank of Gaza, which is run by Hamas. Hamas then apparently changes the dollars into new Israeli shekels – and then sells the dollars on the Egyptian black market, where the rate is much higher.  Hamas makes money on every transfer of dollars to UNRWA.
Evidence of this is seen, Cohen quoted an economic researcher as saying, in the fact that Hamas pays its own salaries very shortly after the UNRWA dollars reach Gaza. "Hamas sometimes has cash-flow problems," Cohen says, "and complains that it can't pay its salaries – but then, when the UNRWA dollars come, all of a sudden it can pay!"
Aside from selling them on the Egyptian black market, another use that can be made of dollars in Gaza is to purchase goods that are smuggled in from Egypt, including arms and weapons.
UNRWA and UNHCR are the UN's two organizations that deal with refugees around the world. UNHCR deals with millions of refugees all over the world, while UNRWA deals exclusively with the Arab refugees caused by Israel's War of Independence in 1948. One difference between these two types of refugees is that UNHCR counts as refugees only those who lived in a particular place "from time immemorial" and were forced to leave because of war, totalitarian regimes and the like. UNRWA's definition, however, is: "Every Arab who left Israel in 1948, and who lived there for two years [emphasis added], will also be considered a refugee - he and his descendants."
This means, although it is not known to most people, that an "Arab refugee" who lived in what became the State of Israel for only two years up until 1948, and since then acquired American or other citizenship, is still listed on UNRWA books as a "refugee" – and his children and grandchildren as well.
UNHCR employs 6,300 people, one for every 2,803 refugees, while UNRWA employs 28,000 people - one for every 164 refugees.
Different Goals for Different Refugees
Yona Levy Grossman, who has put together a slide show on the topic, says the two UN refugee agencies also have different goals: "Around the world, the UNHRC seeks to rehabilitate refugees and improve their civil rights and personal conditions. UNRWA, however, seeks only to regain the 'Right of Return' for its refugees, without concern for the people's actual rights at present."
Similarly, Prof. Nitza Nachmias of the Jewish-Arab Center in Haifa University, says that if it wasn't for UNRWA, "with its half-a-billion dollar annual budget, and its Swiss-managed pension funds of over a billion dollars a year, [the] Palestinian refugee problem would have been solved long ago."
This past January, Canada announced it would be stop giving the PA monies directly for UNRWA, and would rather give it for specific projects. B'nai Brith Canada praised the shift away from funding UNRWA, in that the organization has reportedly been infiltrated by Hamas.