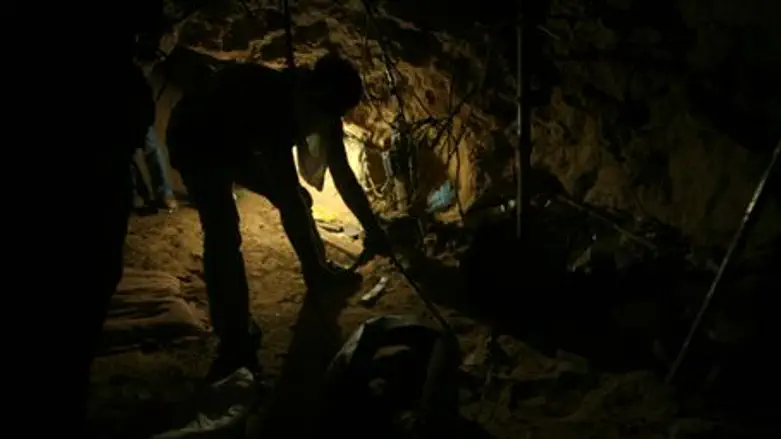 Gaza tunnel
Israel news photo: Flash 90
The tunnel trade in southern Gaza is increasingly drawing controversy over its use of child workers. The dangerous smuggling tunnels leading from southern Gaza to Egypt have cost several Gaza children their lives.
Earlier this month hundreds of Gaza residents took to the streets of Rafiach (Rafah) to protest smugglers' use of child labor. "Tunnel owners, let our children live their childhoods!" some signs read.
Some protesters carried mock corpses.
An estimated 1,000 tunnels are in use under the border city of Rafiah. The tunnels are used to smuggle various black market goods as well as drugs and weapons.
Several thousand young men and boys are employed in the tunnels. While working in tunnels used to pay as much as $100 a day, wages have fallen to $20 a day, according to Arab media. Some tunnel operators say children are more likely than adults to work hard even for the lower wage.
On May 5, a 20-year-old man was killed when a smuggling tunnel collapsed along the Gaza-Egypt border. Several days earlier, four tunnel workers were killed; Hamas blamed Egypt for the deaths. Several other tunnel workers have died since January 2010. Most of the victims were between ages 18 and 23.
According to the PA rights group Al-Mezan, more than 120 people have died working in Gaza tunnels, and hundreds more have been injured. A total of 64 people died in tunnel accidents in 2009, 13 of them children.
In April, several children from Gaza were arrested when they were caught on the Egyptian side of a tunnel. One of the detainees, 15-year-old Mohammed al-Farmawi, was reported as having been killed by Israeli soldiers; the report was proven false when Farmawi returned home alive and well.