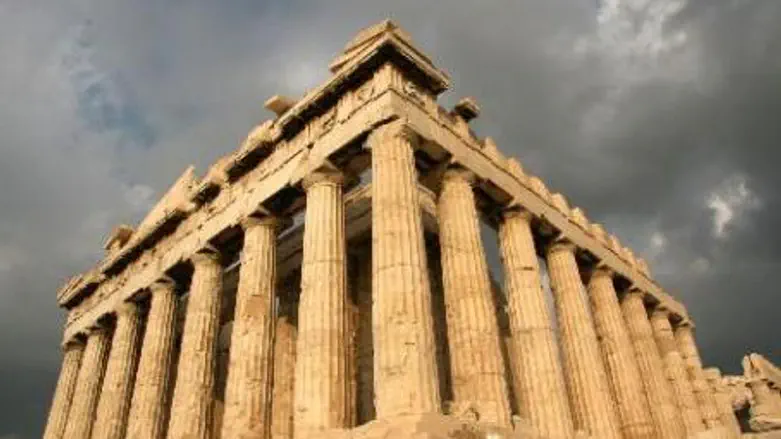 The Parthenon
Rob and Lisa Meehan
The Tel Aviv Stock Exchange (TASE) saw a drop on Tuesday, in the wake of an announced bailout plan for a financially faltering Greece that analysts speculate will not succeed in saving the country.
As has been the case since Athens' stock was labeled "junk" by Standard and Poor's on April 27, however, Tel Aviv has experienced less economic instability than many other major countries.
The Standard and Poor's rating agency downgraded Greek bonds last month due to concerns that Greece would not be able to pay back 300 million euros in debt.
Now, the European Union (EU) and International Monetary Fund (IMF) have reached an agreement with Greece, offering to provide it with 110 billion euros in rescue loans over 3 years. The deal mandates heavy tax increases as well as salary and pension cuts for civil servants. Public spending will be hacked by 40 billion euros. As for the aid package, two-thirds of the money is to come from the other 15 EU member countries, with the rest coming from the IMF.
The deal did not spell relief for the global marketplace, however. Stock markets around the world suffered Tuesday, as analysts predicted the massive rescue operation would fail, and worried that if faltering Spain or Portugal needed aid, a package would be even harder to assemble.
The Tel Aviv 25 Index fell 1.70% Tuesday, with the Tel Aviv 100 Index falling 1.88%. The shekel traded at 3.737 shekels to the dollar, with the shekel-euro exchange rate falling to a 30-month low of 4.906 euros to the dollar.
The fall was steeper on Wall Street. As of 3:45pm EST, the Dow Jones Industrial Average had fallen 2.34%, with the Nasdaq sinking 3.5%.
European countries fared even worse. In Germany and the United Kingdom, stock markets dropped 2.6%. They fell 3.6% in France, 4.2% in Portugal, 5.4% in Spain, and 6.7% in Greece. Protests and riots are erupting in Greece, particularly by trade unions, which say the impending cuts are unfair.