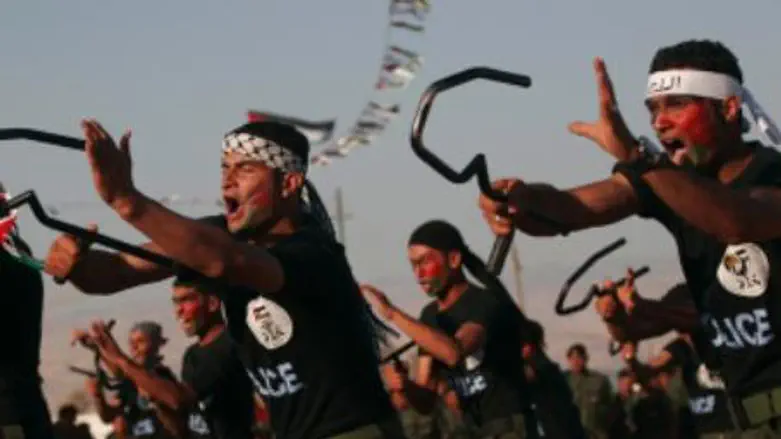 Fatah's US-trained troops
Israel news photo: Flash 90
While Palestinian Authority officials put the focus on winning concessions from Israel, a recent WorldNetDaily report indicates that they may face a greater challenge – a Hamas uprising from within. Support for Hamas is growing within PA ranks, WND said, as it did in Gaza prior to the 2007 Hamas takeover of the region.
Quoting PA sources, WND said several members of Fatah had recently been arrested for helping Hamas to establish an infrastructure in Shechem. Fatah members helped a doctor smuggle roughly $1 million to Hamas for the purpose of buying weapons, the sources said.
Hamas is suspected of rebuilding its terrorist infrastructure in other Judea and Samaria cities as well. Hamas terrorists in Jenin recently managed to obtain hundreds of high-powered assault rifles, PA officials said.
In addition, PA officials suspect that Hamas is infiltrating Fatah by secretly recruiting members, including those in the PA armed forces. Many young members of the forces have received military training from the US, as part of a plan to train the PA to fight terrorist uprisings.
Hamas is believed by many PA analysts to have infiltrated Fatah in Gaza prior to its takeover of Gaza in 2007. The fight for Gaza was relatively swift and bloodless – of the several tens of thousands of armed Hamas and Fatah members in Gaza, slightly more than 100 were killed, and Hamas completed its takeover in under one week. Some analysts believe the Hamas victory was swift because many Fatah fighters stood aside and willingly allowed the Islamic group to seize control.
Hamas has previously threatened to conquer Judea and Samaria, but more recently has made overtures to Fatah and is seeking reunification.
PA Troops Jailed for Terrorism
The WND report came as PA officers were arrested on suspicion of involvement in terrorism. According to PA media, Israeli troops arrested two members of the PA's US-trained forces, one of them a member of the elite Presidential Guard unit.
A third PA officer, Salim Ubayat, was recently convicted and sentenced for terrorist attacks on Israel. Ubayat was convicted of membership in the Al-Aksa Martyrs Brigades, of planning bombing attacks and of carrying out shooting attacks in Judea and Samaria.