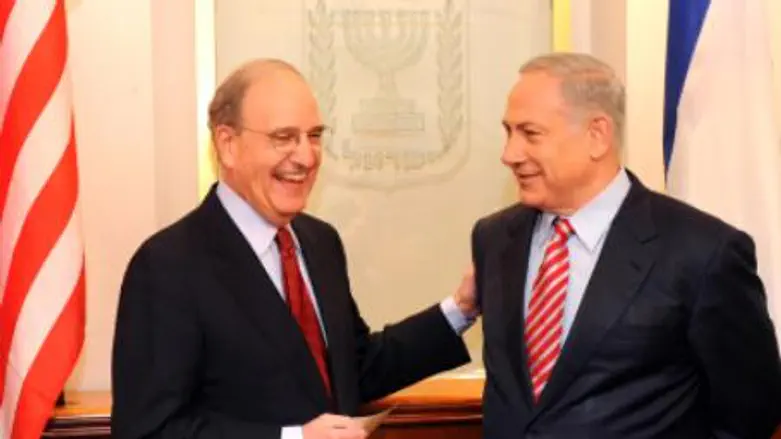 Mitchell with Netanyahu
Israel news photo: Flash 90
United States envoy George Mitchell arrived in Israel Thursday for a surprise visit. Mitchell is expected to remain in Israel until Sunday, and to meet with Prime Minister Binyamin Netanyahu and Palestinian Authority Chairman Mahmoud Abbas. Thus far, no official statement has been made regarding the purpose of his visit.
The visit may be tied to reports of recent progress in US-moderated peace talks between Israel and the PA. Progress is thought to have been made during a visit by the Obama administration's Senior Director of Middle East at the National Security Council, Dan Shapiro.
Shapiro visited Israel this week along with David Hale, Mitchell's deputy, and met with aides to Netanyahu and Abbas.
Freeze fight
US officials recently asked Netanyahu to freeze construction for Jews in neighborhoods of Jerusalem that were under Jordanian control between 1948 and 1967. The PA has insisted that Israel stop building in those areas, which it claims as the future capital of a PA state in Judea and Samaria.
According to the Wall Street Journal, Netanyahu informed the White House last weekend that Israel would continue to allow construction throughout Jerusalem. Other U.S. officials claimed that Netanyahu promised Obama a two year building freeze  in the Ramat Shlomo neighborhood in northern Jerusalem.
A recent WorldNetDaily report stated that the Obama administration has told the PA that US emissaries will pressure Israel to extend the current construction freeze in Judea and Samaria, which is slated to expire in late September. A senior PA official told WND that the PA had "reached an understanding" with America according to which Israel would extend the freeze and would stop construction for Jews in Jerusalem.