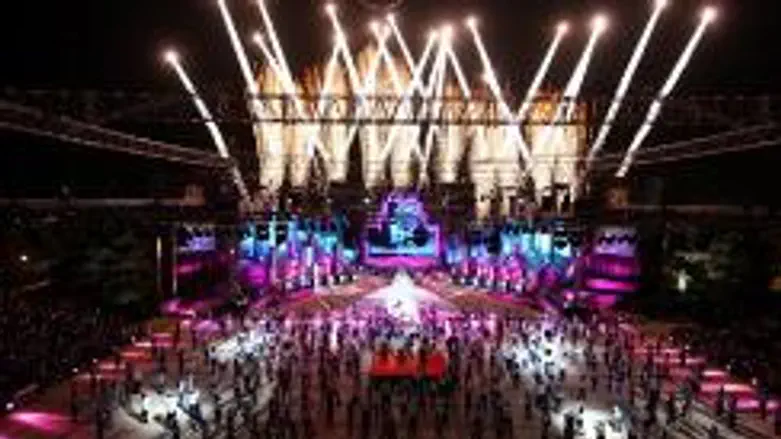 Fireworks over Har Herzl cemetery
Israel news photo: Flash 90
Prime Minister Binyamin Netanyahu kicked off Israel's 62nd birthday as a modern state with a clear message to the world that the united city of Jerusalem is not up for grabs. The same theme was pounded home by Knesset Speaker and veteran leader Reuven Rivlin.
The holiday began with traditional torch lighting ceremonies, the most prominent being at Har Herzl military cemetery in Jerusalem. Those who were given the honor to light the torches included 91-year-old Sarah Shpechner, who was a Palmach parachutist in Europe during the Nazi occupation.
Former IDF colonel Tzvi Levanon, now age 79 and director of the HaGanah Veterans Association, 84-year-old Avraham Greenzeid, who fought the Nazis as an officer in the Soviet Red army, and Ethiopian immigrant and IDF officer Major Doctor Avraham Yitzchak, also were among the torch lighters.

Video courtesy of Channel 1
Prime Minister Benjamin Netanyahu released statement that referred to the capital, stating that "We are here because this is our land. We've returned to our land, to our city - Jerusalem - because this is our land; this is our city."
Speaker Rivlin warned against "fatal segregation" of Arabs and Jews, and secular and hareidi religious Jews, in Jerusalem  
In contradiction to Prime Minister Netanyahu's statements to the Cabinet Sunday morning that Israel does not have to consider the demands of outsiders, meaning the United States and Europe, to divide Jerusalem, Defense Minister Ehud Barak said Monday, "The tension that is developing with the United States is not in Israel's interest."
Without referring to Jerusalem per se, he said that Israel must deal "with the core issues at the heart of the conflict" with the Palestinian Authority, meaning the status of Jerusalem and the PA demand to allow the immigration of millions of Arab claiming ancestry in Israel.
Independence Day Videos
Independence Day: Where it All Began - A visit to the hall where the state was declared.

Independence Day: Publicize the Miracle - National-religious communities throughout Israel conduct Independence Day prayers outside.

Independence Day: A Chat about Dosh the Cartoonist - A talk with the son of Dosh, the late illustrator who created "Srulik," the cartoon character that symbolized the State of Israel.
Photo Essay: Honoring Israel's Fallen on Memorial Day
Article: Honor Those Who Have Fallen
Article: Blood and Rebirth
Article: The State of Israel
Podcast: Annual Musings on the State of Israel
Podcast: Those Who Fought to Create the State of Israel
Podcast: Postman by Day, Jewish Freedom Fighter by Night