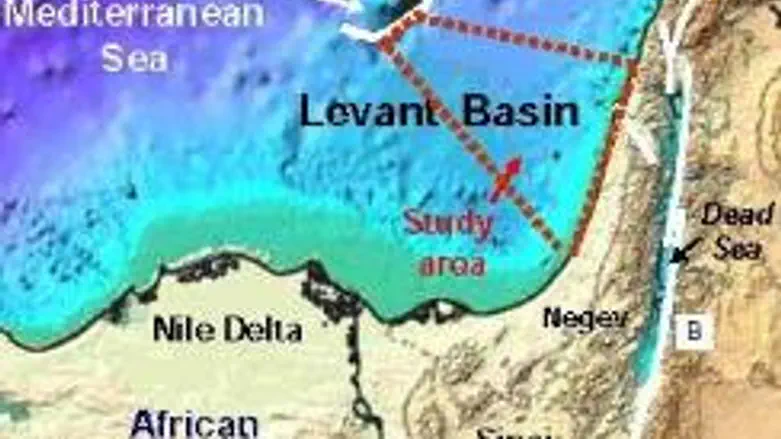 Levant basin
Israel government website
A US energy industry expert estimates that international companies may soon join exploration efforts for oil and gas in Israel.
The expert, Fred Zeidman, told Globes website that it is very likely that international firms will join the exploration efforts on Israeli territory, a year after the 'Tamar' and 'Dalit' discoveries in the Mediterranean Sea. One international firm is already involved: Noble Energy, which was the partner of Delek and Isramco in the discoveries.
Two of Israel's largest financial groups – Nochi Dankner's IDB group and Ofer Nimrodi's Israel Land Development – have also entered the sector.

'A crazy rush'
"It happens all the time," Zeidman said. "We see in the US that the moment a company discovers oil or gas that can be transported, there's a crazy rush to the region by other companies, and that's a function of the size of the reserves found. Around the world, as soon as Noble goes to a place, many other companies follow in its wake. The prospects here are amazing, and I have no doubt that we'll see an economic boom, and a rush of more companies to Israel from overseas following Noble."
The U.S. Geological Survey estimates that 122 trillion cubic feet of undiscovered, recoverable natural gas are in the Levant Basin Province in the eastern Mediterranean region, according to a new report.
The area includes the coastal areas near Israel, Lebanon and Syria.
"The Levant Basin Province is comparable to some of the other large provinces around the world," stated Brenda Pierce, USGS Energy Resources Program Coordinator. "Its gas resources are bigger than anything we have assessed in the United States."
The Levant Basin Province also holds an estimated 1.7 billion barrels of undiscovered oil, that can be recovered with existing technology. This is the first time the USGS has assessed the Levant Basin area for extractable resources.