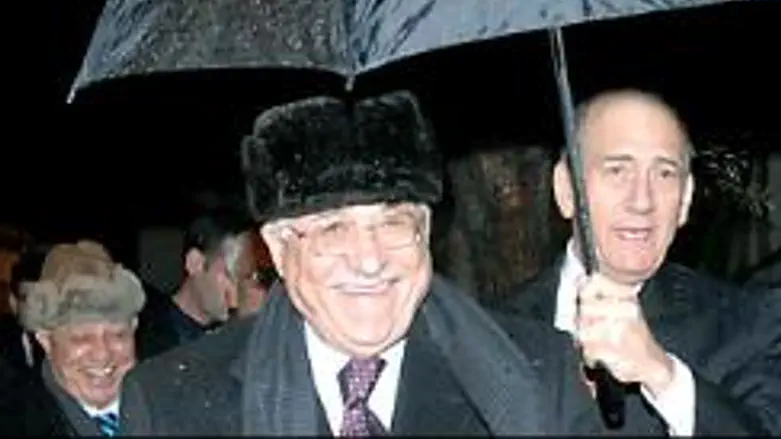 PA Chairman Abbas (left)
Israel news photo: Flash 90
A Palestinian Authority woman who addressed the United Nation's Seminar on Assistance to the Palestinian People on March 25 noted that years of foreign aid appears to have done little good for the PA economy. Dr. Ghania Malhis, chairwoman of the board of trustees at the Economic Policy Research Institute in Ramallah, noted that billions of dollars spent over the past decade have not even restored the PA economy to its 1999 performance.
Malhis estimated that foreign countries had donated a total of $12 billion to the PA since 1995. That figure did not include billions of dollars in aid provided by international aid groups such as UNRWA and other NGO's, she noted. Aid to the PA is increasing steadily: the PA received an average of one billion dollars a year between 2001 and 2005, $1.5 billion in 2007, $1.8 billion in 2009, and an estimated $2 billion is expected in 2010.
The amount of aid provided is particularly high when compared to the number of PA Arabs – the highest estimated PA population is 3.9 million, and more conservative estimates put the number of PA Arabs at 2.6 million – and the PA's GDP is an estimated $4.5 billion annually.
And yet, Malhis said, it has been difficult to note any positive impact of these enormous sums on the PA economy. The GDP is 13 percent lower than it was in 1999, and GDP per capita is down by 30 percent, she said. .
Two main contributing factors are the large PA public payroll, which accounts for almost 60 percent of the PA's spending, and the money poured into the armed forces, which is more than the combined amounts spent on health and education, Malhis said. Malhis elaborated:
1. The production capacity in the occupied territories was higher in the early nineties prior to the peace process,
2. The ratio of exports to imports became a feeble 19 percent
3. The ability of Domestic Production to cover domestic national consumption deteriorated resulting in an increase in dependency on Israeli imports and a heavy reliance on Arab and international aid to finance the cost of these imports.
4. We have also witnessed deterioration in PA ability to provide basic services such as health, education, social development and security unless heavily subsidized by Arab and international donations and aid to support its expenditures.
5. In 2009, international support was required to address a budget deficit of 61.4 percent, equivalent to 39 percent of the Palestinian GDP."
She concluded: "One cannot but feel that these resources have been wasted. When the outcome of more than a 12 billion dollar investment results in such disastrous numbers, then it is obvious that immense mistakes were made on a strategic level". She named the following causes:
The Palestinians, and in specific the Palestinian Authority, hold a sizeable responsibility, having failed to invest the funds mobilized by Arab and International donors on development and instead using them to cover their current running expenditures.
The Palestinian Authority failed to provide developmental sustainable solutions to unemployment, choosing governmental recruitment over encouraging and nurturing a vibrant productive economy and infrastructure to create jobs.
International donors also strayed from their initial goal of building a stable PA economy at the start of the peace process, and began reacting to a series of crises rather than investing foreconomic growth, she explained
Kawther Salaam, who reported the summary on the Palestine Think Tank site, wrote:"It was also exposed in the English and Arab media that (Al Al), brother of an assistant to Mahmoud Abbas, "bought" land from a dead person near the Jordan River in an Israeli military area. The land does not exist, but a total of $2,700,000 was paid by the PA from an account at the Bank of Jordan as a price of the land; [and] $750.000 of this sum was reportedly paid as 'fees' to the Bank of Jordan itself, what hints at the involvement of this Bank in the embezzlement of funds donated by the international community towards support for the Palestinian people."
Mahlis did not detail corruption, saying only: "The Palestinian Authority has also failed to timely address allegations of misuse of funds, power and mismanagement as well as a lack of accountability and transparency." 
Past exposures showed that senior PA officials, including former PA chairman Yasser Arafat and current official Azzam el-Ahmed, have taken hundreds of millions of dollars in PA funds for their own use or that of their associates
However, true to form, Malhis put much of the blame on "aggressive Israeli policies," stating that Israel had undermined the PA economy through counter-terror methods such as temporary closures and home demolitions and cited the end to the "occupation" as the cure all.
Previous statistics have shown that the Arab economy enjoyed an unprecedented boom from 1967, when the areas were restored to Israel after being occupied by Jordan since 1948, until the first and second Intifadas broke out in the late 1980s and in 2000.