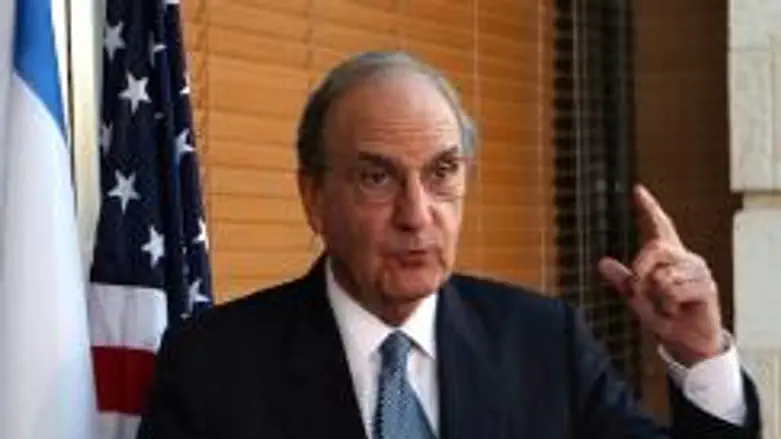 Obama's Middle East envoy George Mitchell
Israel news photo: Flash 90
U.S. Middle East envoy George Mitchell has delayed his scheduled trip to Israel on Tuesday while the United States waits for a formal response from Prime Minister Binyamin Netanyahu on his intentions concerning a building project for Jews in Jerusalem.
Netanyahu issued an "informal" response on Monday night when he told Likud Knesset Members, "Building in Jerusalem and in all other places will continue in the same way that has been accepted in the last 42 years."
The government announced last week that another stage has been completed towards building 1,600 housing units in  northwest Jerusalem's Ramat Shlomo neighborhood populated entirely by Jews, a part of the capital restored to Israel in the 1967 Six Day War which the United States does not recognize as under Israeli sovereignty.
Mitchell was scheduled to meet with President Shimon Peres Tuesday afternoon, but the President's office stated, "The U.S. Embassy in Israel contacted the Office of the President this morning to notify it that the United States Special Envoy for the Middle East, Mr. George Mitchell, will not arrive in Israel today."
Obama Under Fire
U.S. President Barack Obama is behind the public chastising of Prime Minister Netanyahu over the housing plan, according to the New York Times. His handling of the diplomatic crisis with Israel is being increasingly criticized in the United States, with reporters confused following different signals by different American officials.
U.S. Secretary of State Hillary Clinton is waiting for a "formal response" on the building plans, department spokesman Philip Crowley told reporters on Monday. Asked whether Round Two of American-mediated talks depends on this answer, he said, "I'm saying that we asked for a formal response from the Israeli Government and when we get that response, we'll react to it."
He refused to relate to suggestions that Clinton had demanded that the building project be halted. It is estimated that at least two more years will pass before all the permits are signed for work to begin.
As for the timing of Mitchell's trip, Crowley said, "This is a fluid situation. As of this moment, he's still in the United States. But we want to make sure that in scheduling the next round of talks, that we have an environment that allows us to move the process forward."
The Obama administration apparently is not making any effort to tone down the rhetoric against Prime Minister Netanyahu, and American political analysts have commented that the president may be trying to topple the Israeli government.
White House political advisor David Axelrod on Sunday called the announcement by Israel of progress in the Ramat Shlomo project an "affront" and an "insult," surprising Israeli government officials who expected calmer words. 
American Jewish and non-Jewish groups have rallied to the side of Israel, charging the Obama administration with miscalculating widespread Israeli opposition to American efforts to create a de facto Palestinian Authority claim to parts of Jerusalem.
"Clinton's demands on Netanyahu might be impossible for him to fulfill," according to Foreign Policy's "The Cable." It quoted an unnamed Netanyahu aide as saying that "there is no faith within the Israeli government that final status issues such as borders can be negotiated through a third party, even the Americans."