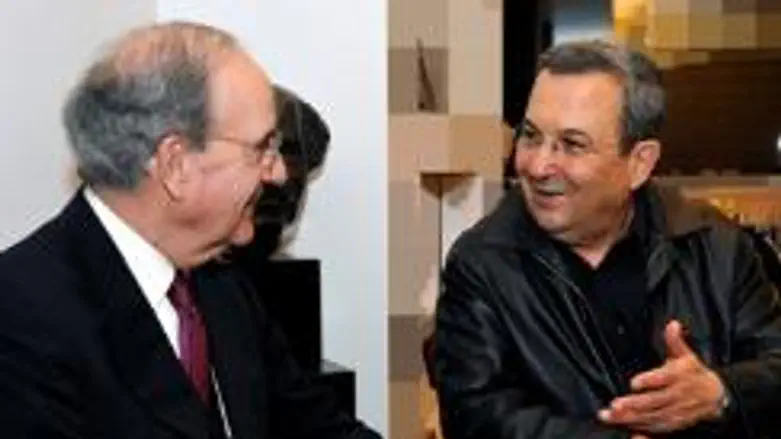 Mitchell (left) and Barak Saturday night
Israel news photo: Flash 90
Defense Minister Ehud Barak met with U.S. Middle East envoy George Mitchell Saturday night amid doubts and fears that overshadow prospects of this week's planned indirect talks between the Palestinian Authority and Israel. 
The failure of Mitchell to convince the PA to resume direct talks with Israel reflect PA Chairman Mahmoud Abbas' refusal to compromise on his pre-conditions. Mediated talks are expected to begin this week, with Mitchell shuttling between PA negotiator Saeb Erekat and Israeli negotiator Yitzchak Molcho.
"While both sides continue to say they hold out hopes for resumption of talks, privately they admit that while they were enthusiastic in the first months of the Obama presidency, they believe that window has shut," noted the Australian newspaper Saturday night. "Also, privately, they say they fear an increase in violence and tension."
The Arab world already has given notice that it is allowing only four months for an agreement based on its demands for a new PA state to include all of eastern Jerusalem, Judea and Samaria. The Arab League stated on al Jazeera television, "We intend in four months time to bring back the whole of the peace process to the Security Council, thus ending the role of honest broker role played so far by the US and to put an end to the peace process."
U.S. State Department spokesman Philip Crowley, responding to reporters' doubts about the upcoming talks, said that "our guess is that it will probably take more time than that."
Reuter's Arshad Mohammed questioned Crowley, "The reality is they're not going to enter into [direct] discussions. And it's almost as if one has gone backwards in time, two decades, to the pre-Oslo period when they wouldn't even sit in the same room and talk to one another."
Crowley replied, "They will ultimately need to talk directly to each other…. If it starts through indirect talks and then creates momentum that leads to confidence that eventually gives the leaders a sense that there's now an understanding – a common understanding – that should lead to direct talks."
The PA demands for sovereign territory include the Temple Mount, all of the Jewish-populated Old City and suburban Jewish neighborhoods in Jerusalem, More than 300,000 Jews live in the areas, including Ramot (pictured), French Hill, Gilo and Pisgat Ze'ev. Nearly the same number live in Judea and Samaria, which the PA also wants to take over.
The Mitchell-Barak meeting Saturday night came two days before U.S. Vice President Joe Biden is to make his first visit to Israel since taking office last year. Police have geared up for massive protection and escorts for Biden, who is to arrive on Monday for a three-day visit.
Motorists are advised that there several main arteries will be closed to private vehicles several times during the visit.