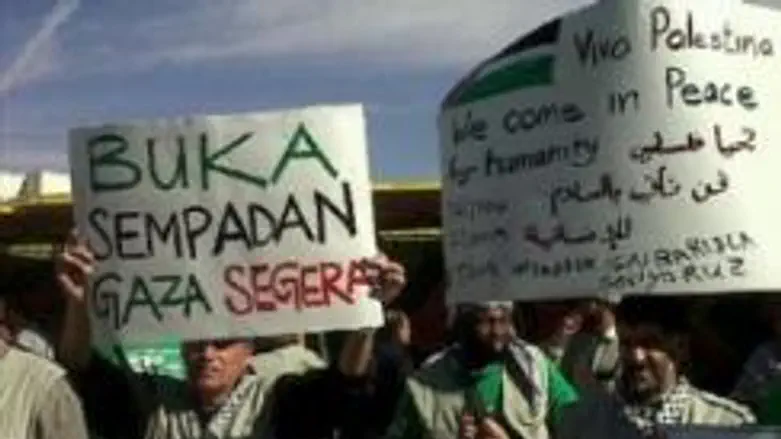 Members of Lifeline 3 convoy
Israel news photo: file
Venezuelan president Hugo Chavez may join one of the next "humanitarian" flotilla headed for Gaza. Lebanese newspaper As-Safir reported Monday that the aid convoy "Lifeline 4" will leave for Gaza after the British parliamentary elections in May, and will have Chavez on deck, along with well known anti-apartheid activists from South Africa.
The newspaper quotes Kevin Ovenden, an aide to anti-Israel MP George Galloway, as saying that in two months' time, even before the next Lifeline convoy sets off, several other aid ships will leave Mediterranean ports for Gaza. 
The ships will set off for Gaza in March, in a convoy initiated by a Hamas terror activist who received political asylum in Britain. The man, Muhammad Sualha, stated in a pro-Hizbullah website that the convoy will include six or seven ships that will depart from Turkey, Greece and Cyprus simultaneously.
"This time we want a direct confrontation with the Zionist enemy," he explained. Sualha was a propaganda liaison for Hamas in Judea, Samaria and Gaza in the 90s.
The Lifeline 3 convoy reached Gaza January 6 after long delays, organized violence and clashes with Egyptian security forces. A Hamas-sponsored riot in support of the convoy culminated in the fatal shooting of an Egyptian border guard by a Hamas sniper. Galloway and other members of the convoy were deported from Egypt and the Egyptian government declared that the British MP was no longer welcome in the country. No similar convoys would be allowed to pass through Egypt in the future, Egypt said.