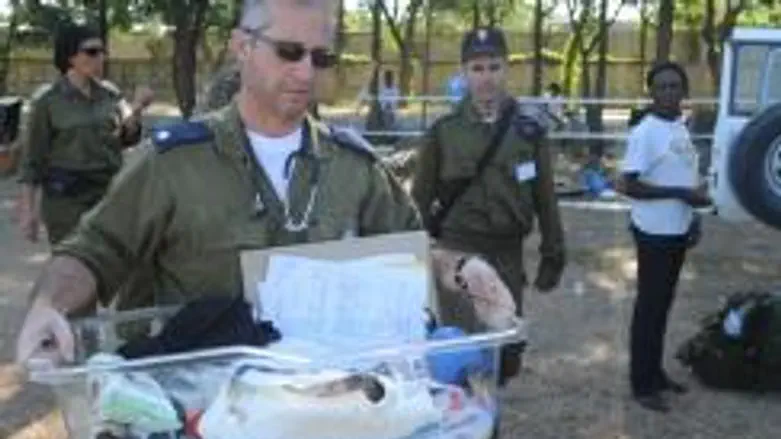 Destruction in Haiti
Israel news file (photo)
Israeli citizens are hoping to give opportunities for new life to children who have been orphaned by Haiti's January 12 earthquake.
Emergency humanitarian aid group Israel Flying Aid and Orange Israel Telecommunications announced January 25 that they will establish an orphanage to accommodate over 200 children in Haiti. At least 70 children will be taken in immediately. To assist the project, the Israel Defense Forces will create infrastructure for fresh running drinking water, an electric generator, tents, and primary medical supplies.
The orphanage will essentially be a re-creation of one destroyed in the earthquake. CEOs of the two companies visited the ruins of a girls' orphanage in Port-au-Prince to find the children without food and suffering from severe malnutrition. These are the orphans who will benefit first from the new project. They are between the ages of 2 and 14, and will be cared for by Haitian and Israeli volunteers.
"From showers to electricity and computers, from water, food and clothing we will rebuild this orphanage," said Orange Israel CEO David Avner. "As for today we will take a yard and put up tents as it is unsafe for the children to remain in these cracked and unstable buildings."
IFA and Orange Israel will try to raise 1-2 million dollars from Israeli businesses for the project.
Israeli couples yearn to adopt
Yet more Israelis hope to heal the pain in the hearts of Haiti's new orphans through adoption.
At least 30 couples have contacted the Welfare and Social Service Ministry's Adoption Department over the past 10 days hoping to take in children left orphaned by the earthquake.
Israel's Social Affairs Minister Isaac Herzog has asked his staff to begin looking into the possibility of developing an adoption protocol with Haiti. Israel's envoy to the Dominican Republic and consular official to Haiti, Amos Radian, will submit the official request. International treaties and adoption laws are also being consulted. The potential to bring Haitian orphans to Israel will be clarified within a few weeks.
Herzog told Israel's Army Radio that aside from being a form of humanitarian aid, the adoptions would "bring great joy" to Israeli couples hoping to raise a child of their own.
Subsidizing adoptions
The confirmed death toll in Haiti has topped 150,000 people. Though families are still being reunited as loved ones confirm the whereabouts of their members, it is clear that the amount of children orphaned by this tragedy will be high.
Israel helps prospective adoptive families by subsidizing the cost of international adoptions. Low-income couples yearning for a child receive a 15% discount, which usually translates into a saving of over 17,000 shekels. The children are converted to Judaism upon arrival in specialized rabbinical courts.
Israel is not the only country which has come forward to adopt Haitian children. The United States, Spain, and the Netherlands have also submitted adoption requests.