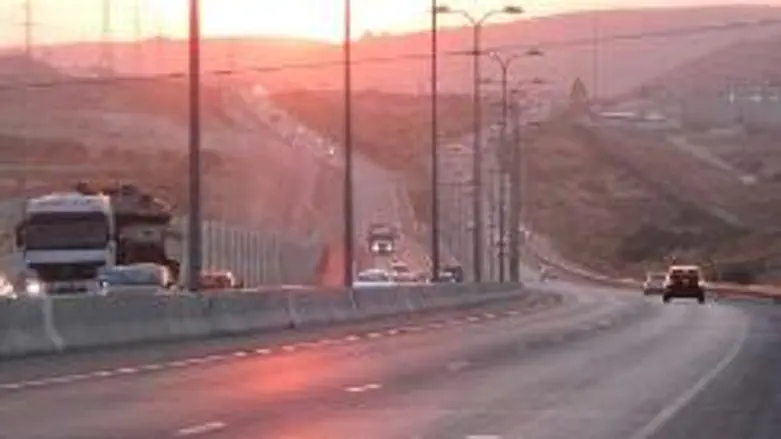 Highway 443
Israel news photo: ~Ori
A three-judge High Court panel ruled Tuesday afternoon that Highway 443, a major artery connecting northern Jerusalem with the city of Modi'in and Ben Gurion airport, must be open to Arabs from the Palestinian Authority. It has been closed to the PA since 2002 because of dozens of terrorist attacks on the thoroughfare.
The court panel accepted a petition against the closure from Arabs living in villages near the highway. The judges said although the military can limit traffic for security reasons, it cannot issue a blanket order that affects the Arab population in Judea and Samaria.
The judges' opinion was written by Justice Uzi Fogelman, who reasoned that the road is supposed to serve the entire population and that closing it contravenes international law.
They emphasized that although security measures do not require that Arabs be prohibited from the highway, the ruling does not dictate future decisions by the military to limit travel because of security threats.
The ruling will take effect in five months in order to allow the IDF to establish new security measures.
Justice Edmund Levy dissented in part, arguing that the "military officers acted within their authority to decide to close the road to PA Arabs following serious terrorist attacks, which included the murder of Israelis on the highway and in the vicinity."
He also noted that the IDF said it would be preferable not to ban all Arabs from the road and that it was looking for alternative measures.
MK Yaakov Katz, head of the National Union Party, responded to the ruling, "Highway 443 was closed to Arabs after much Jewish blood was spilled on it. How can Justices [Dorit] Beinisch and Fogelman adopt an anti-Jewish stance that goes against IDF recommendations and endangers Israeli citizens? This ruling expresses the stance of the Meretz party that has only three MK's in the Knesset, but of a majority on the Supreme Court who agree with it." He called for citizens affected by the ruling to initiate civil suits against the decision.