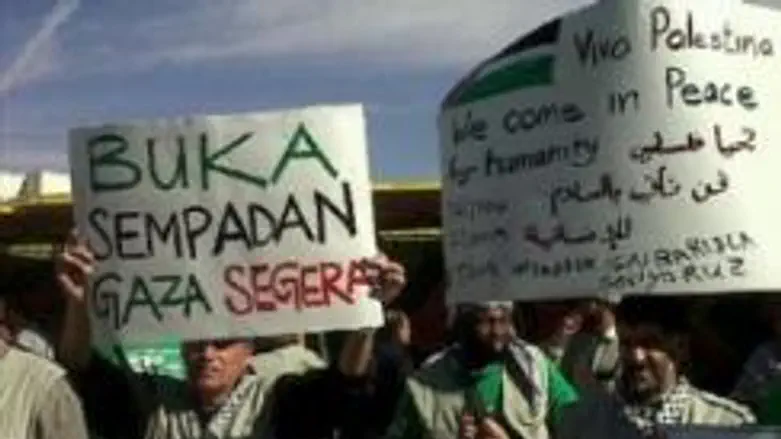 Viva Palestina protestors in Aqaba
Israel news photo: Viva Palestina web site
The Gaza-bound 'Viva Palestina' convoy led by a British MP is heading for Syria after being blocked by Egyptian officials at Nuweiba on the Red Sea. An attempt by pro-Arab British parliamentarian George Galloway to lead a convoy of some 450 European and Arab volunteers in 250 aid-packed vehicles into Gaza is heading to Syria after it ran into trouble when the British lawmaker defied Egyptian directives.
Galloway tried to take a shortcut into Gaza by entering through the port of Nuweiba, despite being told by the Egyptians that he must enter through El-Arish, on the Mediterranean coast.
The convoy left Aqaba, Jordan on Monday after being stuck there since Thursday, when it became clear that days of attempts by Galloway to manipulate international leaders and the media were unsuccessful.
A spokesman for the 450 European and Arab members of the convoy, Zaher Birawi, told the AFP news agency, "After talks between the Turkish government's envoy and the Egyptian consulate in Aqaba, we agreed to go to Syria."
Jordanian trade union spokesman Maysara Malas, who has been helping Galloway, added, "We hope that Egypt does not put up more obstacles. It is unfortunate that Israel has interfered in Egypt's decision, which serves the Zionist entity."
The convoy will head for Latakia, a Syrian port on the Mediterranean, before proceeding to El-Arish, as they were originally instructed to do by Egypt.
"Egyptian authorities have given a very hostile reception to the convoy," complained Viva Palestina participant Anton Abagama. "They are not willing to negotiate; they are not willing to even think of any alternative… Egypt is being pressured from two sides, by Israel and by the U.S., to take the stand they are taking."
This is the third such convoy to make the trip to Gaza from Europe within the past 12 months. Among the 250 vehicles are ambulances that were donated as well as buses and trucks filled with medical and school supplies, equipment and food, which humanitarian aide workers continue to claim is badly needed, despite visual evidence to the contrary. Hamas previously has confiscated several ambulances to use them for their own terrorist forces.
The Arabic-language web site PalToday, based in Gaza, recently posted photos showing a world of plenty for its residents, despite more than two years of reports crying to the world over their desperate plight.
The very same web site showed a completely different scene on its English-language page geared to foreign readers -- a picture of misery featuring a story that focused on a girl who wanted her terrorist father to be freed by Israel. To read more about the site and the "Tale of Two Gazas," click here.
Viva Palestine is one of two major convoys that is scheduled to arrive in Gaza this week – the other being the "Gaza Freedom March," expected to cross into the region on Friday through the Rafiah terminal.
The Gaza Freedom March dwarfs the Viva Palestina effort in human terms, with about three times as many volunteers – more than 1,400 participants from more than 42 countries are expected to flood into Gaza through the border crossing.
It is not clear what the marchers plan to do once they get there, or when they plan to leave. It is also not clear when the Viva Palestina convoy is expected to arrive.