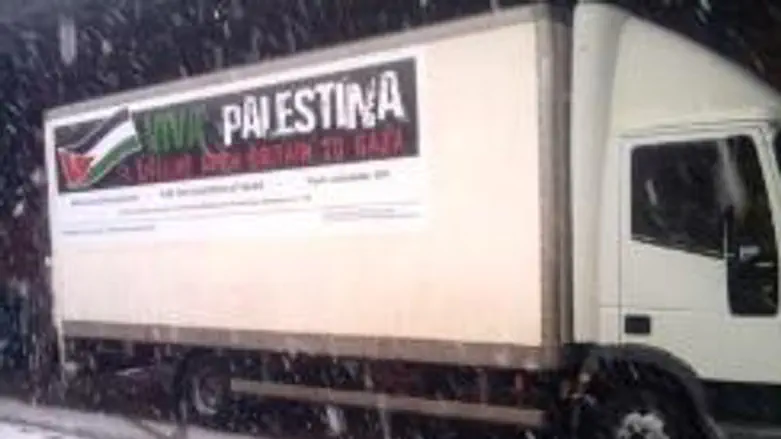 Viva Palestina convoy truck
Israel news photo: Viva Palestina web site
An attempt by British leftist MP George Galloway to break Israeli and Egyptian control over the Gaza crossings while taking a shortcut through Egyptian territory has run up against a roadblock from the Egyptian authorities.
A convoy of some 150 trucks of humanitarian aid – and hundreds of volunteers from 17 countries – left London on December 6 with fanfare reminiscent of last year's "Free Gaza" fishing boats filled with "humanitarian aid" packages from Cyprus.
The winter holiday convoy has allegedly swelled over the past several weeks to 210 trucks and ambulances said to be carrying medical supplies, food and "educational materials," with the number of volunteers now reportedly at more than 500.
The convoy, with the stated aim of bringing aid to Gaza, is also aimed at breaking the laws passed by Israel and Egypt, which state that all aid coming to the region must be approved and pass through specific crossings.
Egyptian officials blocked the leftist "Viva Palestina" convoy on Thursday from entering its borders at Nuweiba, saying the vehicles had to enter through the Mediterranean port city of El-Arish. Nuweiba, which is located on the Red Sea coast, would have been a far easier and shorter route by which to reach Gaza.
Galloway Tries for International Pressure
Galloway, a Labour Member of Parliament, is knowns for his pro-Palestinian Authority views and his defense of the Hizbullah terrorist organization during the 2006 Second Lebanon War. After the convoy was unable to make any headway in persuading Egyptian officials to allow them to pass, he attempted to exert international pressure on Cairo by appealing to the governments of the various volunteers in the convoy. Those that received his letter included Australia, Belgium, Canada, Denmark, Ireland, Italy, Malaysia, Montenegro, New Zealand, Portugal, Spain, Syria, Turkey, the UK and U.S.
"Alas, the Egyptian government has placed a series of seemingly arbitrary obstacles in our path," he claimed. "Because there are no ferry companies that operate from Aqaba with a scheduled route to [El-Arish], we have no recourse but to use the only route available to us, from Aqaba to Nuweiba," Galloway wrote.
The convoy was hoping to reach Gaza by Sunday, the date of the first anniversary of the start of Israel's counterterrorist Operation Cast Lead, launched to silence the constant onslaught of rocket attacks on southern Israel from Gaza. The three-week war against the Hamas terrorist regime that controls Gaza largely accomplished its goal, greatly reducing, although not entirely eliminating the rocket and mortar fire aimed at the western Negev.
Mexican Standoff in Aqaba, Jordan
At present, the convoy is stuck at Aqaba, in Jordan, where a "Mexican standoff" has ensued: the Viva Palestina activists appear determined to try and force the Egyptians to allow them to pass by applying political pressure through the media.
Nevertheless, Egypt appears unmoved. "Looks like this is gonna take a while," wrote one activist on the "live updates" for the London-Gaza convoy located on the Perdana Global Peace web site. "We're in Akaba [sic], waiting for Egyptians to allow us into the country. Pls spread message and put pressure on Egypt govt," pleaded another in a "tweet" posted Saturday.
Late Saturday night, a third posting noted, "Still in Akaba… no sign of approval by the Egyptian govt yet. Hopefully there's a compromise on both sides soon."
All of the crossings into Gaza except one are controlled by Israel, which allows thousands of trucks bearing humanitarian aid shipments into the region. Medical patients also travel in and out of the region daily for treatment in Israeli hospitals.
However, Gaza residents and traffic are not allowed to freely leave the area. Israel maintains a tight control on both the crossings and the coastal waters in order to prevent terrorist movement and smuggling in of weapons, ammunition and other contraband.
One of the criteria for Israel's reopening of the crossings has been the release of kidnapped IDF soldier Gilad Shalit, who was abducted by Hamas terrorists in a cross-border raid in June 2006, and who is being held hostage in Gaza.