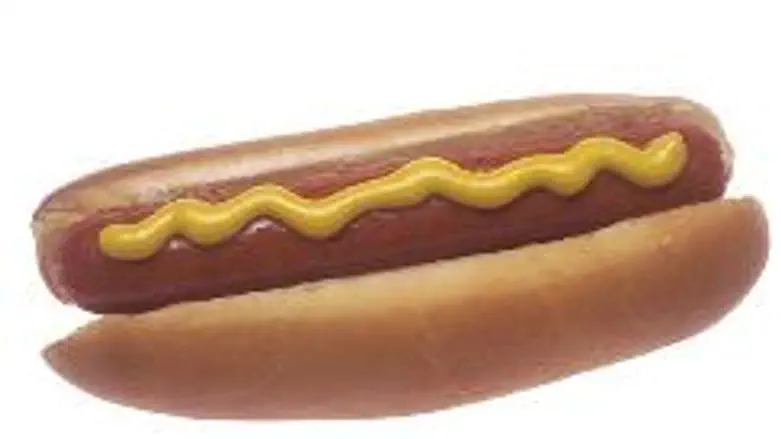 Hot Dog (illustrative)
U.S. Department of Health and Human Services
American Jews who live to see their favorite football team slide into the lead at the yearly Super Bowl games can now enjoy it with a kosher slider.
Kosher Sports Inc. (KSI), a New York-based kosher concessions provider geared to the sports industry, has signed a contract to provide kosher food to this year's Pro Bowl and Super Bowl games at Dolphin Stadium in Miami, Florida. This will be the first time kosher fare will be available at the events, which will take place in February, 2010.
On the menu for this year's football finals: Abeles & Heymann frankfurters, Italian sausages, and knoblewurst, as well as grilled salami sliders.
KSI already has stands at Citi Field, the National Tennis Center, and Keyspan Park in New York, Lincoln Financial Field in Pennsylvania, M&T Bank Stadium and Oriole Park at Camden Yards in Maryland, LandShark Stadium in Florida, and Prudential Center in New Jersey.
While they provide knishes, pretzels, non-dairy hot chocolate and beer to their patrons, they also frequently provide a venue for fans to worship in case their sports viewership coincides with a time of mandatory Jewish prayer. KSI's website lists prayer times for each of their locations. At Oriole Park, a minyan is coordinated in the middle of the 5th inning, while at Prudential Center, prayer is in between periods 2 and 3, according to the site.
Kosher Sports is under the kosher supervision of the Star-K Kosher Certification, based in Baltimore, Maryland.
Kosher Sports is not the only purveyor of kosher concessions in the United States.  Strikly Kosher (under the supervision of the Vaad of Queens) has two stands in New Jersey, Ouri's Kosher Caterers (OK supervision) has a stand at New York's Yankee Stadium, and Olde Spadine Ave. (COR Supervision) has two stands in Canada.
While many Jews are cheering for the increase in kosher food at sports arenas in North America, others are calling for observant Jews to get down from the bleachers.
The venerated 11th century Torah commentator Rabbi Shlomo Yitzchaki – better known as Rashi – warned Jews away from sports arenas almost 1,000 years ago.  According to the rabbi considered to be the father of all Torah commentators, the Torah admonition against "perform[ing] the practice of the land of Egypt in which you dwelled" (Leviticus 18:3) includes attendance at sports stadiums.
Other opponents refer to the construction of the world's most famous sports arena – the Colosseum in Rome – as the impetus behind their rejection of professional sports. 
In 2001, Cinzia Conti, the Director of Surface Restoration at the Colosseum in Rome confirmed that inscriptions deciphered at the site say the Colosseum was built using the spoils of war. The war was with the Hebrews, and the plunder used to pay for the building was taken from the Holy Temple, which was sacked 2 years prior to the beginning of work on the Roman arena.