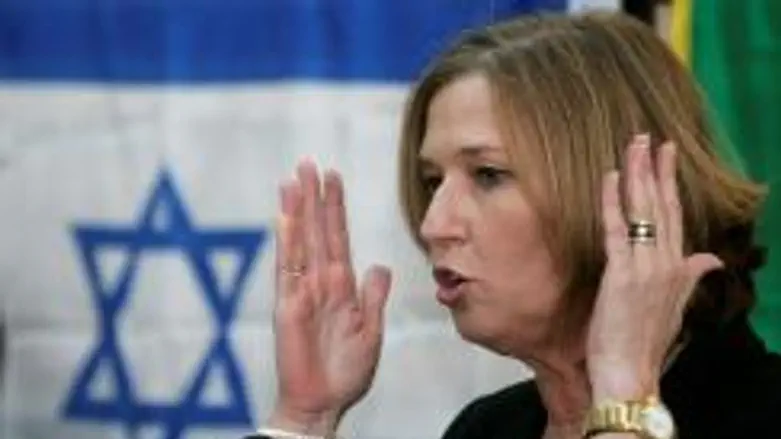 Kadima leader Tzipi Livni
Israel news photo: Flash 90
The British government is urgently trying to repair the diplomatic damage following confirmation that an arrest warrant was issued for Opposition leader Tzipi Livni, who canceled a planned trip to speak at a Jewish National Fund event three days ago.
Media in Britain confirmed that the arrest warrant was issued on Saturday, authorizing she be taken into custody for approving alleged war crimes in the Operation Cast Lead counterterrorist war in Gaza last December and January,
It was revealed Tuesday morning that the judge who issued the arrest warrant thought that Livni was in the country and rescinded the order after learning that she had cancelled her trip two weeks ago.
"We are bemused that the court would issue an arrest warrant for someone who is not even in the country," a diplomatic source was quoted in Britain.
"Israel's leaders need to be able to come to the UK for talks with the British government," according to a Foreign Office spokesman. "We are looking urgently at the implications of this case. The UK is determined to do all it can to promote peace in the Middle East, and to be a strategic partner of Israel."
Pro-Arab leaders in Britain have appealed to the local courts several times to issue arrest orders for IDF officers and political leaders. In September, a British court rejected an appeal calling for the arrest of Defense Minister Ehud Barak for his involvement in Operation Cast Lead.
The court ruled that Barak was visiting as a government official, unlike Livni, whose trip was political and not governmental.
Four years ago, senior IDF officer Doron Almog was forced to remain on his plane that had landed in Britain after he learned that a British court authorized his arrest for ordering the destruction of 59 homes in a counterterrorist operation in Gaza in 2002.