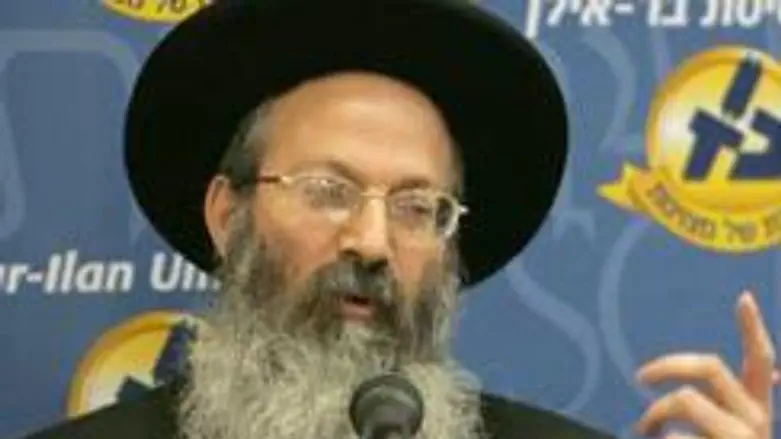 Rabbi Eliezer Melamed
Israel news photo: Flash 90
Har Bracha Yeshiva Head Rabbi Eliezer Melamed will meet with Deputy Defense Minister Matan Vilnai after Vilnai invited him to do so, Arutz Sheva learned Thursday evening. The date and venue of the meeting have not yet been made public, but the rabbi's confidantes said that the invitation was carried out in a "respectable and sincere manner." Therefore, they said, the rabbi "will be honored to meet with Vilnai and clarify his views in a sincere and direct manner."
The two are to discuss Rabbi Melamed's position regarding IDF soldiers' conscientious refusal to obey orders to expel Jews from their homes. The rabbi's support of such action has caused great consternation in the Ministry of Defense and there have been threats to cease cooperating with the Har Bracha Yeshiva in the military's 'hesder' program. Hesder yeshiva students combine military service with advanced yeshiva studies.
The invitation to meet Vilnai follows a less respectable one, in which Rabbi Melamed was called to meet Defense Minister Ehud Barak. Barak told the media that Rabbi Melamed received a "summons" to a "hearing." Rabbi Melamed's response to that "summons" was to decline and to say that Barak could come meet him at Har Bracha if he so desired.
This time, the rabbi's response was different because "it has been clarified that this is not a hearing, as some media had said," the rabbi's confidantes explained.
Support from Ketzaleh
National Union Chairman MK Yaakov Katz ("Ketzaleh") had called upon Rabbi Melamed not to attend Barak's "hearing" unless he is invited in an honorable fashion.
"Rabbi Eliezer Melamed is renowned for the force of his positive influence upon the best fighters and commanders in the IDF, who are men of Torah," Ketzaleh said. "His series of books, Pearls of Halacha, has been distributed in hundreds of thousands of copies which are studied in lessons for married men in a very large number of synagogues throughout Israel. As a public figure and as one of the founders of the Har Bracha Yeshiva, it is clear to me that if the Minster of Defense wishes to cancel the arrangement with Har Bracha Yeshiva he is primarily hurting the IDF and its best soldiers, but if this is what he wants – so be it!
"I call upon Rabbi Eliezer not to go to what the Ministry of Defense has called 'a hearing,'" Ketzaleh said before Vilnai issued his invitation. "Just as Rabbi Melamed respects the Defense Minister and his deputy, so the minister and his deputy must respect the rabbi. A meeting for a respectable exchange of opinions – yes. An inquiry and hearing – no."