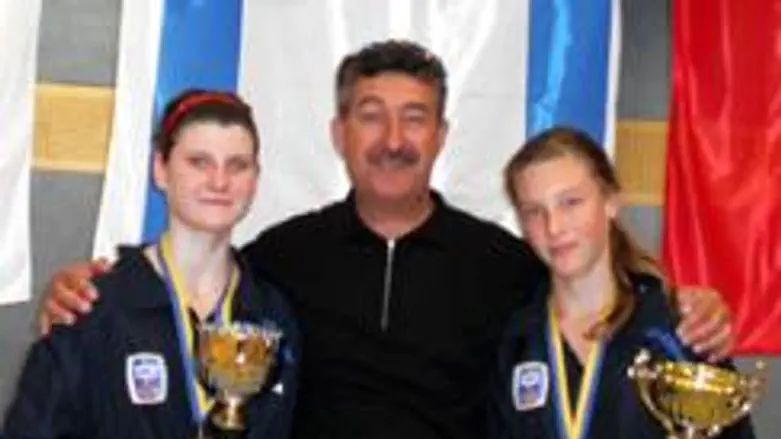 Dana Strelnikov and coach Friedman
Israel news photo: Maccabi Maalot
Young female athletes from Israel's fencing team swept top medals at a 28-nation European tournament held in Mödling, Austria last week – but faced an additional challenge when they stood on the winners' podium to receive their medals: the organizers did not play the recording of the Israeli national anthem, and the Israeli winners had to sing the anthem on their own, a capella style. The Israeli team's staff has no doubt that the incident was intentional.
Israel's Dana Strelnikov, 14, won the gold medal and Alona Kamarov won the bronze at the tournament, which hosted 120 fencers aged up to 17. Both Israeli medalists hail from the northern Israeli town of Ma'alot, whose fencing club has produced many of Israel's best young fencers. But as they stood on the podium and awaited the opening sounds of national anthem HaTikvah – they heard only silence. The girls and their trainers quickly understood what was happening and proceeded to sing the entire anthem on their own, with some scattered support from voices in the spectators' bleachers.
The Israeli national team's coach, Yaakov Friedman, told Arutz Sheva that the Israeli team faces constant political challenges on the international circuit. At a tournament in Göteborg, Sweden, in January this year, Israel won the silver medal and when the medalists were already on the podium the organizers informed Friedman that they do not have a recording of the Israeli anthem. The team sang the anthem without the help of the recording. It was understood by everyone, Friedman said, that the reason was Operation Cast Lead in Gaza, which had just ended.
'We only have the old anthem'
In the Mödling incident, Friedman said, the organizers approached him when the winners were on the podium and told him that "we do not have a recording of the new Israeli anthem, just the old one." Friedman informed them that to the best of his knowledge, Israel has only had one anthem – HaTikvah – since it was founded, but this did not change anything, and the team had to sing a capella again. While the anthem was missing, the Israeli flag still hung proudly, he said – because tournament rules specifically require the presence of the national flags.  
The head of the Israel Fencing Association, Yossi Harari, told The Forward that in the next tournaments Israel participates in, the team and every single one of the athletes will be equipped with recordings of the anthem, so that organizers will at least no longer be able to use the same excuses when refusing to play HaTikvah.

Friedman said that Jews have been prominent in the modern sport of fencing because it requires "character and brains," besides certain physical qualities. "Like chess," he explained, "decisions need to be made very quickly and that is why there are many Jews who excel in the sport."