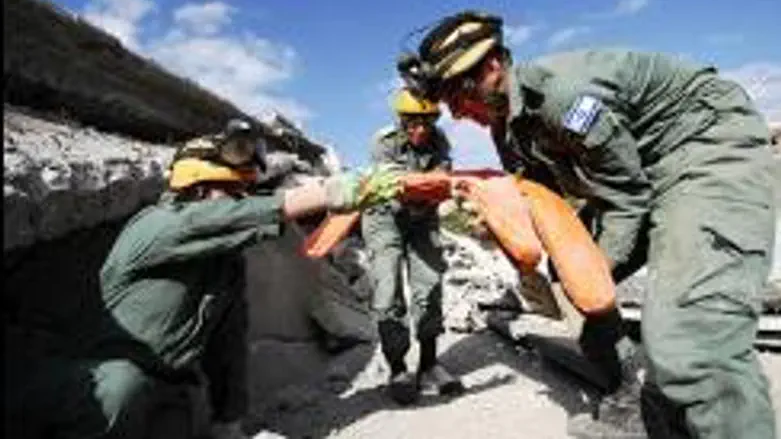 IDF emergency drill (archive)
Israel news photo: (IDF)
Israel and Jordan conducted a joint earthquake drill on Monday in the Beit She'an Valley, practicing techniques in evacuation and treatment procedures, according to IDF Army Radio. The maneuvers were held despite continued friction over Arab riots on the Temple Mount and the status of Jerusalem.
The joint Israeli-Jordanian emergency maneuvers were intended to create commonality between the two forces in order to ensure smooth cooperation in the event of an actual natural disaster.
Soldiers from the Home Front Commands of Israel and Jordan operated in a simulated environment set up at Kibbutz Mesilot, where a number of buildings were demolished to provide the proper atmosphere. IDF Major-General Anwar Sa'ab, commander of the northern district of Home Front Command, supervised the Israeli forces.
The two groups worked in full cooperation with each other on all operations.
Drill Held Despite Friction Over Israel-PA Relations
The drill was not publicized until its conclusion in order to allow the Jordanian forces to operate without its government having to contend with negative sentiment at home, which might have forced a last-minute cancellation.
On Monday, the day the drill was held, King Abdullah II warned that Israel must be careful in dealing with the issue of the status of Jerusalem in talks with the Palestinian Authority. "Jerusalem is a red line and Israel must internalize the importance the city holds for Arabs, Christian and Muslim, and stop playing with fire," he said. The king also insisted the Israeli-PA negotiations must ultimately lead to establishment of a PA state on the land of Judea and Samaria, with Jerusalem as its new capital.
Despite the anniversary last month of 15 years since the signing of the Israel-Jordan peace treaty, the Hashemite monarch has been increasingly critical of the Jewish State.
Abdullah has particularly slammed Israel's management of affairs at the Temple Mount -- specifically the clashes between Muslim worshippers hurling rocks and bottles near the Al-Aksa mosque, and Israel Police officers repeatedly forced to quell the violence with riot control techniques. The Jordanian king warned last month that the government's interventions on the Temple Mount would "derail all opportunities for peace and stability in the region."