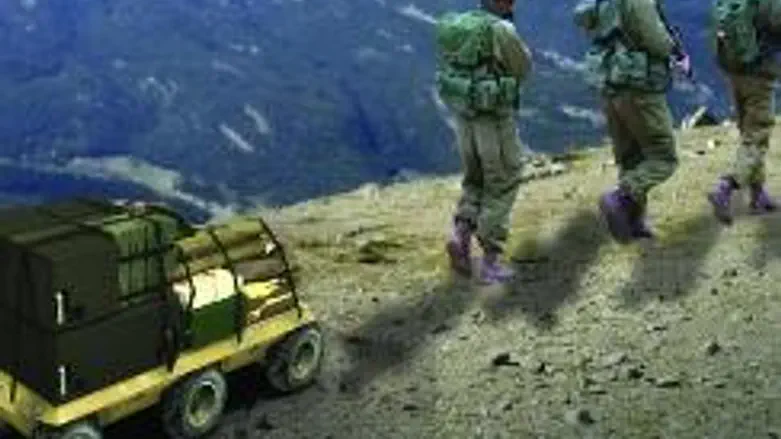 New REX robotic platform
Israel news photo: IAI
Israel Aircraft Industries (IAI) unveiled a new "robotic platform" at the Seoul International Aerospace and Defense Exhibition this week and is expecting hundreds of millions of dollars in orders for the anti-terror machine.
REX acts as a "beast of burden" through its ability to carry up to 200 kilograms (440 pounds) and is designed to assist groups of 3-10 ground soldiers on operational and logistical missions for up to 72 hours.
"The robotic vehicle follows the lead soldier from a given distance," explained Ofer Glazer, head of innovation at IAI. "Using simple commands, including 'stop', 'fetch', and 'heel', the lead soldier controls the robot without being distracted from the mission at hand. Controlling the robot in this way allows for intuitive interaction and rapid integration of the product on the field within a short time frame."
IAI also has produced other robots, including the Guardium robotic patrol vehicle and the semi-robotic aircraft towing system, called Taxibot.
A government-owned company and the largest aerospace and defense industry power in Israel, Israel Aerospace Industries was established in 1953 as Bedek Aviation Company. The company has become a world leader in aircraft conversion and modernization programs, unmanned air vehicles (UAVs), communication programs and defense electronics.     
One of those who led the company was an American Jew, Al Schwimmer, who had moved to Israel to help build the country.