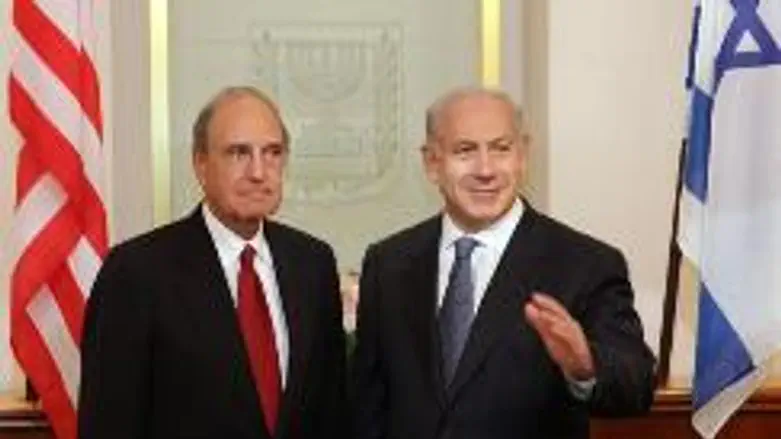 Mitchell and Netanyahu at Wednesday meeting
Israel news photo: Flash 90
Prime Minister Binyamin Netanyahu and visiting U.S. Middle East envoy George Mitchell concluded their second straight day of talks around noon Wednesday, and failed to see eye-to-eye on American and Palestinian Authority demands. They agreed to meet again on Friday, after Mitchell talks with PA Chairman Mahmoud Abbas.
An American embassy official told Israel National News that Mitchell's style is to work quietly, without the usual news conferences that often try to put on a positive face regardless of the content of discussions.
The main issue is building homes for Jews in eastern Jerusalem, neighborhoods in Judea and Samaria, which U.S. President Barack Obama has characterized as "illegitimate settlements." Prime Minister Netanyahu, facing stiff coalition opposition to further concessions to the PA and the U.S. government, has drawn the line at Jerusalem and at 2,500 housing units that already have been started in Judea and Samaria.
Abbas has said he will settle for nothing less than a total building freeze before agreeing to meet again with the Israeli Prime Minister. Mitchell's immediate aim is to arrange a conversation between Abbas, President Obama and Prime Minister Netanyahu when they visit the next session of the General Assembly of the United Nations later this month.
American government spokespersons have said Mitchell is "cautiously optimistic" despite the apparent insurmountable gap.
Mitchell also met with PA Prime Minister Salam Fayyad Tuesday night; Jordan, Egypt and Lebanon are on his list of destinations for meetings as well.
Asked by reporters in Washington if Mitchell and Prime Minister Netanyahu made progress in their talks, U.S. State Department spokesman Ian Kelly said, "Well, these meetings are still going on. They will talk again tomorrow."
Pressed as to why he thinks the talks are good, Kelly answered, "As I've said many times, these are important talks. We want to give them a chance to succeed. And I'll leave it at that."
Journalists refused to accept Kelly's response and one correspondent continued, "I think there's a discrepancy because the last time you described a meeting as positive between Mitchell and the Israelis, it was anything but. Can you say whether you feel like they are any closer now to an agreement than they were a day or so ago?"
Kelly repeated, "Again, I think that – I think we are moving forward. I think the fact that they agreed to meet again tomorrow to continue discussions is a good sign. But beyond that, I really don't have anything else to share with you."