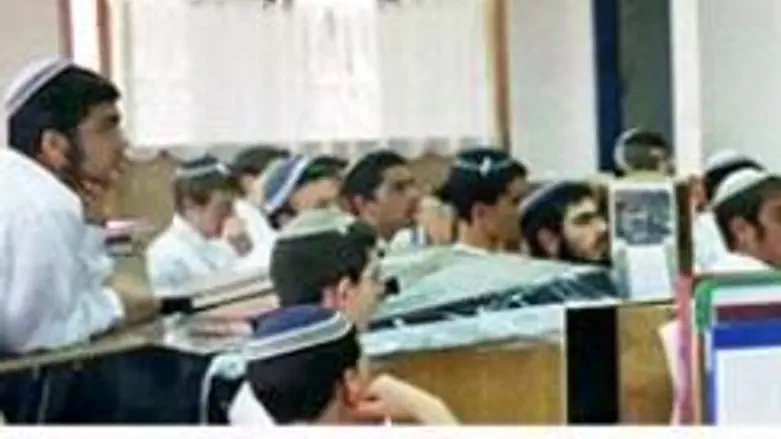 Yeshivat Maaleh Hever
Israel News photo: Shavei Hevron
Yeshiva boys near the crash-site of Assaf Ramon, son of fallen astronaut Ilan Ramon, photographed his plane burning and the arrival of rescue teams – but then refused to sell the exclusive photos so as not to desecrate the dead or offend the family.
The students study in the yeshiva high school in Maaleh Hever, a small community in southern Judea. When they heard the explosion of the plane, only about 1.2 kilometers away, they ran out to see what had happened, taking cameras with them. They filmed the plane burning, the arrival of the emergency crews, and the hubbub around the incident.
Somehow, word of the pictures got out, and more than one news agency contacted the boys and offered to pay thousands of shekels for the exclusive footage. When the boys realized that an Air Force pilot had been killed, they consulted with their Rosh Yeshiva (rabbinical dean), Rabbi Amichai Chazan. He explained to them the importance of behaving ethically in such a situation.
The boys understood his message, and refused to sell. "I don't want to profit from this type of situation in which a soldier dies," said one student, Nehorai Hadad.

Instead of selling the pictures, the boys gave the photos to the army personnel investigating the crash – and dedicated their evening's Torah study in memory of Assaf ben [son of] Ilan and Rona Ramon.
Chief IDF Rabbi Avi Ronsky arrived in the yeshiva as well, and praised the boys' actions and the Sanctification of G-d's Name thereof. He spoke with them about the importance of thorough Torah study as the basis for military service excellence.

Maaleh Hever is a 15-year-old religious-Zionist yeshiva high school in which only a minimum of secular studies is offered; nearly the entire day is reserved for Torah study. At least two other similar institutions have been established in its wake, in Jerusalem and in Shaalvim.