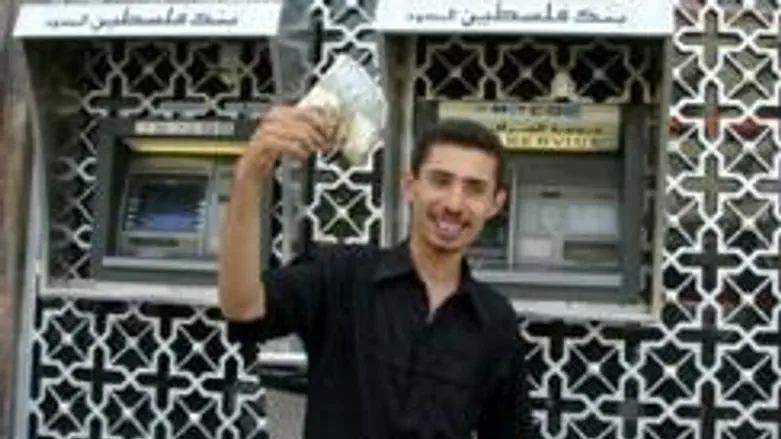 Cash from the PA (illustrative)
Israel news photo: Flash 90
The Palestinian Authority has voted to allocate one million shekels – more than $250,000 – for presents for terrorists imprisoned in Israel. The money will be distributed in honor of the Muslim holy month of Ramadan.
The gifts were announced at a time when PA leaders say they are facing a severe budget crisis, and have turned to international backers to provide funds. The PA gets billions of dollars a year in international aid, primarily from the United States and the European Union.
The Ramadan gifts will be an addition to the normal monthly PA aid to prisoners serving time in Israel. Support is given not only to PA Arabs serving time, but also to Israeli Arabs convicted of security-related offenses, or in PA terms, "fighting the Israeli occupation."
Prisoners are given between 1,000 and 4,000 shekels a month, with more money going to those serving the longest sentences. Prisoners get payments made to a pension plan as well, and after release, those who served longer sentences are given preference for government jobs.
PA Media: Terrorists as 'Political Prisoners'
The PA's attitude towards terrorist prisoners is reflected in reports in PA-backed media outlets such as Palestinian News Network and Maan News. PA media frequently refers to terrorists in Israeli jails as "political prisoners."
The arrests of PA Arabs suspected of terrorist activity are described as "abductions."
'Israel Making Prisoners Sick'
During the PA vote, the PA official in charge of prisoner affairs, Issa Qaraqi, accused Israel of conducting medical experiments on prisoners and of making them sick. He called on international health organizations to intervene.
Qaraqi, who has a history of praising PA Arab terrorists, said the fact that several PA Arab prisoners have been diagnosed with cancer and other illnesses while serving time in prisons "indicates the decline in Palestinian prisoners health... and the lack of minimal medical care." He accused Israeli guards of deliberately withholding treatment from cancer patients.