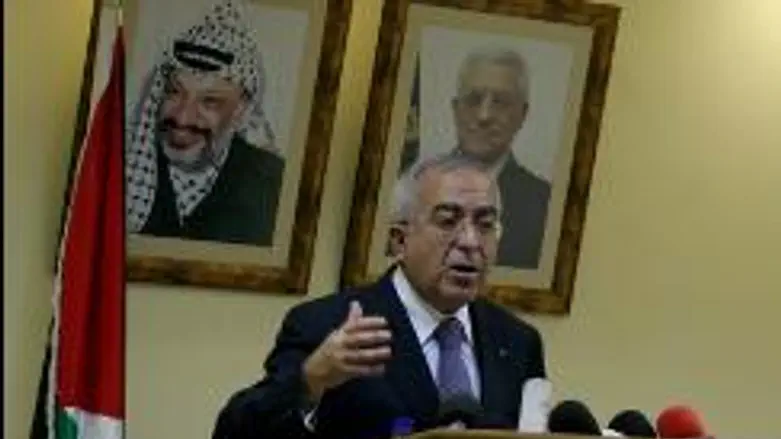 Salam Fayyad
Israel news photo: Flash 90
During an appearance Saturday in Aspen, Colorado, Palestinian Authority Prime Minister Salam Fayyad promised that Jews who choose to live in a future Palestinian Authority-led Arab state in Judea and Samaria will be granted equal rights. His statements stood in contrast to the PA's current policies regarding Jewish residents of the region.
Fayyad's statements were made as part of a question and answer session during the Aspen Ideas Festival. The event was covered by the Aspen Daily News.
"The kind of state that we want to have, that we aspire to have, is one that would definitely espouse high values of tolerance, co-existence, mutual respect and deference to all cultures, religions," Fayyad said in response to a question about the possibility for a Jewish minority to remain among residents of a PA Arab state.
Jews who remain in Judea and Samaria if Israel withdraws "will enjoy these rights and certainly will not enjoy any less rights that Israeli Arabs enjoy now in the state of Israel," he added.
The promise of equal rights came in response to a question from former CIA Director James Woolsey, who asked if Israeli Jews who chose to live in Judea and Samaria would be given the rights granted to Arab citizens of Israel. Among those rights are the right to vote, freedom of worship, free speech, "and most importantly, be able to go to sleep at night without worrying someone is going to kick down the door and kill them," according to Woolsey.
Fayyad's statements in favor of co-existence and equality sharply contradict current PA policy regarding Jews in Judea and Samaria. The PA considers all Jewish communities in the area to be illegal, and has demanded that all be dismantled and their residents removed from the region.
PA law makes selling property to a Jew an offense punishable by death. Arabs who assist Israel in thwarting terrorist attacks are often put to death as well. PA terrorists who succeed in murdering Jewish residents of Judea and Samaria are lauded by PA leaders, and they and their families are given financial support.
Fayyad Rejects Bibi's Stability Plan
In answer to a different question, Fayyad rejected the diplomatic approach preferred by Prime Minister Binyamin Netanyahu, who has called for the PA to demonstrate political and economic stability before creating a state. Taking steps towards stable government without winning concessions from Israel could lead to the PA's downfall, he claimed.
If the PA works to improve its economy and security without moving forward in negotiations, it risks that the move towards stability will be "seen as an effort to make the occupation work better, and not to end it," he explained. That perception would "[do] away with any political viability that our political leadership still has," he warned.
No 'War of Words' over Hamas
In an earlier session on Saturday, Fayyad discouraged debate over the philosophy presented by Hamas. Instead, he said, those who wish to fight Hamas should work to improve life for PA Arabs.
PA Arabs will support "that which is done to effect a meaningful change for the better in people's lives," he said. "I think we stand a much better chance of winning that debate than going about it in a war of words, which has typified much of the argument over the divide."
The PA's approach to the Hamas takeover of Gaza, and growing Hamas popularity in Judea and Samaria, has been to demand that Israel make "goodwill gestures" in order to strengthen the Fatah-led PA lead by Mahmoud Abbas. Such gestures have included releasing hundreds of terrorist prisoners and removing dozens of checkpoints and roadblocks throughout the region.